|
In this issue:
Chiropractic helps in treatment of addicts
Bacteria That Are Good for You
Arnold Schwarzenegger, big chiropractic booster
Viagra linked to Cases of Blindness
Chiropractic Legislation Introduced Into US Congress
Eating Whole Grains Healthy
April 2001
Chiropractic helps in treatment of addicts
From the March 29, 2001 issue of the Miami Herald comes a story of how chiropractic care is helping those in a Miami drug addiction program.
The story starts by explaining that patients in a residential drug-addiction program who received chiropractic care designed to realign their vertebrae completed the treatment program at a remarkable 100 percent rate.
Ninety-eight patients at Miami's Exodus drug-treatment program participated in the study that was featured in a Journal of Nature magazine called "Molecular Psychiatry". The study also reported that the patients involved in the study at the treatment center who received chiropractic care made fewer visits to a nurses' station and showed significant decreases in anxiety.
Dr. Jay Holder, medical director of the Exodus program and the chiropractor who conducted the study said, "Completing a 28- to 30-day program greatly enhances an addict's chances of staying clean, but nationally only 72 percent of participants make it all the way through such programs." Holder went on to say, "This correction of what chiropractors call subluxation results in a sense of well-being that allows patients to benefit more thoroughly from the group therapy and medical care of addiction treatment." "Chiropractic does not treat addiction -- it does not treat any disease,'' Holder said. ``We're allowing those things that treat addiction to be embraced more thoroughly.''
The participants were divided into three groups. One group got the regular regime of addiction care. The second group got "sham" adjustments, while the third group got actual chiropractic adjustments to correct subluxations. The group with the regular care and the sham chiropractic had a completion rate in the program of only 74% and 56%. The group that received the chiropractic care to correct subluxations showed a completion rate of 100%. The implications of completion of a drug treatment program are very important to preventing addicts from returning to drugs.
Bacteria That Are Good for You
On March 26, 2001 MSNBC ran a story called "Friendly Infections". The basis of the story is that when we kill bacteria involved with a cold,
we are not only creating stronger harmful bacteria, but we are also causing problems with the normal bacteria that are supposed to be in our bodies.
The story mentions that our bodies contain approximately 400 species of helpful or "friendly" bacteria, known as "probiotics." Most of these can be found clinging to the walls of our stomachs and intestines.
It has been known for some time that these friendly bacteria aid in our digestion, ward off other harmful microbes and help us process folic acid and other critical nutrients. These friendly bacteria come from many sources including, breast milk, yogurt, buttermilk, fermented cheese, cultured milk and fermented soybeans. Scientists have long suspected a link between these microbes and good health. A Russian bacteriologist Elie Metchnikoff won a Nobel Prize in the early 1900s for linking yogurt consumption to longevity.
Studies suggest that having a good supply of these friendly bacteria can help ward off bladder infections, vaginal infections, even sexually transmitted diseases. Europeans regularly include things such as yogurt and fermented milk into their diet and consider these to be assisting in good health. Unfortunately, Americans consume fewer fermented dairy products than any other developed country. Not so coincidentally, Americans have a very high rate of digestive problems.
Arnold Schwarzenegger, Big Chiropractic Booster
Arnold Schwarzenegger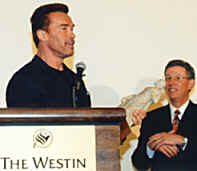 was the headline speaker at the 9th Annual Symposium on Natural Fitness held March 2-4, 2001 in Columbus, Ohio, hosted by the International Chiropractors Association (ICA). A strong supporter of chiropractic and a chiropractic patient himself for many years, "Arnold" told the group of chiropractors: "I depend on chiropractic and so does my whole family. . I have been making a movie in Mexico and all of us on the set saw the chiropractor to keep us going. All of the crew, electricians, stunt people, actors, all of us, were adjusted regularly by this great woman chiropractor who worked around the clock to take care of us all. That's what chiropractors do, take care of people like no other kind of healer."
Each year the ICA's Symposium on Natural Fitness is held in conjunction with the "Arnold Classic" a bodybuilding and fitness event. At this event athletes and chiropractors from all over the world get together to celebrate health and fitness. Many of the top competitors from these events follow Arnolds lead by being regular chiropractic patients. Schwarzenegger, a chiropractic patient himself for years, summed his feelings for chiropractic up by saying, "It is truly one of the few professions that really helps people in a straightforward way with no monkey business, like some of the other professions promise to help, but this chiropractic is the real thing."
Viagra linked to Cases of Blindness
Reported in Reuters March 12, 2001 is a story that links Viagra usage to blindness. Dr. Howard Pomeranz, a US ophthalmologist and director of neuro-ophthalmology at the University of Maryland Medical Center, says there appears to be a risk that men taking Viagra, the impotence drug, could suffer permanent vision loss or even blindness. "We know that Viagra regulates a chemical in the body to constrict the arteries. The constriction may cut off the blood flow to the optic nerve, especially in people with a low cup-to-disk ratio, where the blood vessels and nerves are tightly bundled,'' Pomeranz said in his release.
A spokesman for Pfizer, the company that makes the drug, said that the reports are not conclusive. However, Pomeranz concluded, "People who take Viagra who have this particular configuration of their optic nerve at least need to be aware that this is a potential problem that may occur if they use this medication. Whether this is a significant increased risk, I don't have the statistics to back that up.''
Chiropractic Legislation Introduced Into US Congress
As reported in the March 9, 2001 PRNewswire, Representative Wes Watkins, of Oklahoma, has introduced legislation that would require Medicare
to reimburse doctors of chiropractic for the full scope of services they are licensed to provide under state law. The bill has been named the "Chiropractic Patients' Freedom of Choice Act." Currently US Medicare only pays for what they term, "manual manipulation of the spine to correct a subluxation." This means that under the current system any examination or x-ray procedures used in a chiropractic office are not covered.
"This situation has deprived both beneficiaries and the program itself of the health benefits and cost savings that might result from full and open competition between doctors of chiropractic and other Medicare providers,'' said American Chiropractic Association President Dr. James A. Mertz. "Numerous research and actuarial studies all point to the fact that chiropractic services could save the Medicare program billions of dollars each year.''
According to the bill, the proposed legislation would not add or require coverage of any new services under the Medicare program. It would simply provide beneficiaries access to currently covered Medicare services when performed by doctors of chiropractic.
Eating Whole Grains are Healthy
From Mar 13, 2001 Reuters Health comes a story reporting on a study of nearly 34,000 Norwegian adults. In this study those who ate the highest amounts of whole grain had a 23% reduced risk of death from heart disease, and a 21% reduced risk of death from cancer compared with people who ate little or no whole grains. Because of this and because there have been similar findings among Americans, the United States Department of Agriculture is recommending that Americans "eat a variety of grains daily, especially whole grains."
Commenting on the study, lead study author Dr. David Jacobs Jr., of the University of Minnesota said, "This study bolsters the whole idea that the whole grain might be good for you." The study was originally published in the February 2001 issue of the European Journal of Clinical Nutrition.
Jacobs concluded by saying, "The people who eat (whole grains) tend to have healthier lifestyles in general, so their diet is generally higher in fruits and vegetables and lower in red meat. We find then that part of the benefit of the whole grain is the other things that people do with it, but part of it seems to be related to the whole grain itself."
---
We ask a few simple things. Please forward this email newsletter onto someone else. Let us know what you think of this issue by sending us an email at the address we have listed above. Do not hit the reply button as we mail these using a different mailing address. If you feel you received this newsletter in error please email us and let us know. Thank you.