|
June 2002 Issue
Please help us spread the message of health by forwarding this email newsletter onto others. Also please let us know what you think of this newsletter by replying to this email. If you feel you have received this newsletter in error please email us and we will remove you from our list. Thank you.
In this issue:
More Children Going to Chiropractors
Prescription

D

rug

s

K

ill

M

ore Floridians Than Illegal

Drugs

Kids, Colic and Chiropractic
Painkillers May Delay Bone Healing
Manual Therapy Works Best for Neck Pain
Off-Label Drug Prescriptions for Children Rampant
More Children Going to Chiropractors
The June 6, 2002 issue of the Boston Globe reports on a phenomenon becoming more common, children under chiropractic care. The story states: "Chiropractors' offices, once filled with middle-aged construction workers, over-the-hill athletes, and migraine headache sufferers, are taking on a younger look these days as more and more parents are bringing their children in for exams.
For many children, trips to the chiropractor have become a weekly event, squeezed between sports practices, orthodontist appointments, and piano lessons."
Not surprisingly, the article also presents an opinion from a medical doctor, Dr. Robert Baratz, who said, "Show me a medical doctor who says, `You're here for hypertension. Oh, why don't you bring your kids in, too.'" In spite of these antiquated opinions, the Globe reported that in 1998, children made 420,000 visits to Boston-area chiropractors. This according to a study in the Archives of Pediatrics and Adolescent Medicine. Local chiropractors say that figure has steadily grown since that study..
The article justifies the increased usage of chiropractic care by suggesting there is an increased need. "To understand why, look no further than Little Leaguers' mud-stained uniforms, laptops flipped open on the edge of beds, and excessively heavy backpacks. Add in high-heel and platform shoes worn by teenage girls, hours in front of Nintendo and, in some cases, too much studying and not enough exercise, and you've got a lot of young, aching backs." The Boston Globe also suggests, "The bigger reason children are getting treatment, though, appears to be parental experience. Some 27 million adults frequented chiropractors' offices in 2001, up from 22 million in 1996, according to the American Chiropractic Association. As more adults find relief from their back pains through chiropractic treatment, they're taking their kids in for checkups, too".
Probably the most telling part of the article were the patient comments. One explains ''I started coming to the chiropractor because I had a lot of tension in my back working in front of a computer all day,'' said Audet, of Sharon. ''When I first saw kids here, I thought it was kind of weird. But after my husband and I had been coming for four or five years, I thought, `Why not have them try it?'"
The chiropractors interviewed in the article explained that most younger patients have no symptoms, but come in for wellness and preventative care. They further explain that the children come in for correction of subluxations to allow the body to function healthier.
Prescription Drugs Kill More Floridians Than Illegal Drugs
For the first time in history in the State of Florida, more people died from overdoses of prescription drugs than from illegal drugs. This statistic reported in the June 8, 2002 St. Petersburg Times came from a report of the 24 medical examiners in Florida for the year 2001. The article noted that there were 939 cases where lethal levels of prescription painkillers such as OxyContin, methadone and Vicodin, or benzodiazepine drugs such as Xanax or Valium were found. The 939 cases in 2001 more than tripled the 284 cases in 2000.

Jim McDonough the Florida drug czar said the rise in prescription drug deaths shows a need for better monitoring of prescription narcotics. However this idea was rejected this year by the Florida Legislature. McDonough, director of the governor's Office of Drug Control, said the abuse of oxycodone, the main ingredient in OxyContin and numerous other painkillers, continues to be worrisome. He commented, "It's a drug abuse that came out of no place. There was an epidemic growth."
The article reported that Florida deaths related to oxycodone and its chemical cousin, hydrocodone, rose 45 percent in 2001 compared with 2000. They did note that after doctors and the public became aware of the growing death toll, those deaths dropped 14 percent during the last six months of 2001. The total number of prescription related drug overdose deaths in Florida for 2001 was 939 compared to 714 deaths due to illegal drugs in the same time frame.
Kids, Colic and Chiropractic
From the April 11, 2002 issues of CNN Interactive and Web MD comes a story about children and colic. The story has an unusual slant in that there are many medical opinions that admit that the medical approach is ineffective. These same medical opinions also admit that the chiropractic approach did help infants with colic. But the articles still fall short of endorsing chiropractic care.
The article quotes Dr. Maxine McMullen, a chiropractor in Davenport, Iowa, and president of the International Chiropractic Association's Pediatric Council. In it she states, "I've helped hundreds of babies with colic, every one of them simply needed a spinal adjustment."
The article does report on a study that appeared in the peer reviewed journal, the Journal of Manipulative and Physiological Therapeutics. In the study twenty-five randomly selected colicky infants received three to five chiropractic adjustments over two weeks. By the end of that period, diaries kept by parents showed that the babies shortened their daily crying episodes by three hours. In contrast, the crying of 20 infants taking dimethicone decreased by only one hour. In a previous study, published in the journal's August 1989 issue, researchers tried the same technique on 316 colicky babies and found that their crying soon diminished.
The article seems almost begrudging in their reporting of the chiropractic success with infants with colic. Several MDs still are skeptical of children receiving chiropractic care. One section of the article tried to explain the results by saying that infants with colic may well be really suffering from back pain, and that the chiropractic care helps the infants by helping the back pain. Most chiropractors reject this concept and attribute the improvement to a removal of interference in the nervous system known as subluxation.
Despite the negative tone of the medical practitioners interviewed in the article, none could dispute the fact that medical care was generally ineffective while chiropractic helped the infants.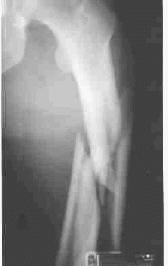 Painkillers May Delay Bone Healing
From the May 28, 2002 Associated Press comes a report of new research that suggests some of the most widely used painkillers may delay healing of a broken bone. According to the AP story, bone experts call the research compelling enough that doctors should explain the risk before patients choose a painkiller for a broken bone, spinal surgery or other bone injury. The research shows that the biggest sellers, Vioxx and Celebrex are among the worst drugs for preventing or slowing healing.
In the study, researchers at the University of Medicine and Dentistry of New Jersey gave 253 young rats with a splinted broken leg either Vioxx, Celebrex, indomethacin or no drug. Indomethacin-treated rats took a week longer to heal than untreated rats; the resulting bone was as strong. Even worse, rats given Vioxx or Celebrex hadn't fully healed after two months, and what new bone formed sometimes was only a weakened shell.
Researcher O'Connor says "If it were my fracture, to me every day counts." In response to this information, the American Academy of Orthopedic Surgeons just alerted all its members to the study and the potential problem. Additionally, the Arthritis Foundation's medical director has called for more research to see if people really are at risk. In the meantime he says patients should discuss with their doctors if they should temporarily quit any anti-inflammatory painkiller until a broken bone heals.
Manual Therapy Works Best for Neck Pain
The above title comes from a May 6, 2002 Reuter's Health article reporting on a study published in the May issue of the Annals of Internal Medicine. In this study Dr. Jan Lucas Hoving of Monash University in Victoria, Australia reports that what they called "Manual Therapy" included procedures performed by chiropractors. Other previous studies have shown that over 90% of what most studies call "Manual Therapy" are performed by doctors of chiropractic.
In this study, 183 patients with neck problems were given either "manual therapy" (as the study calls it), exercise therapy or they were told to continue routine care from their medical doctor, which included advice on home exercises and prescriptions for pain medication for a 6 week period. All patients were allowed to continue on any pain medication they had been taking.
The results showed that at the end of the study, about 68% of the "manual-therapy" patients said they were "completely recovered" or "much improved," according to the report. This was vastly better when compared with 51% of those on exercise therapy and 36% of patients who continued their medical care. The conclusion from the researcher was obvious when they said, "Manual therapy" seems to be a favorable treatment option for patients with neck pain."
It should be noted that the results obtained in this study would probably be less than would be expected under chiropractic care. "Manual Therapy" as delivered by untrained individuals can not be as precise or specific as chiropractic adjustments delivered by trained practitioners who perform adjustments on a daily basis.
Off-Label Drug Prescriptions for Children Rampant
Two separate articles from the June 1, 2002 issue of the British Medical Journal deal with the subject of "Off-Label" drug prescriptions for children. Off-Label means the usage of a drug for a purpose other than that which it was approved and licensed for. Off-Labeling also applies when drugs are used in a population that the drug was never tested on. Such is the case in many drugs that were never tested on children but are commonly prescribed for them.
One of the two articles looks at a study in Germany and makes a chilling opening statement. "Between 35% and 90% of the drugs prescribed to hospitalized children are either not licensed for children's use or are prescribed outside the terms of their product license (off label prescribing). Subsequent adverse reactions are more likely than with licensed products." Their comments were, "We found that 13.2% of prescriptions for a representative group of children in primary care in Germany were off label." The article attributed 75% of the off label usage to lack of information about the usage of the drugs.
The second article dealt with the same problem in the United States. The opening statement in that article included a comment about how a new drug could come to the market in the US. "Until recently, the drug need only to have been studied in the adult male population. Yet once a drug is approved it may be prescribed by a physician for any population or disease state desired." To attempt to change this situation a law was passed, the FDA Modernization Act of 1997 (FDAMA), which provided that manufacturers of drugs under patent could seek a six month patent extension for performing studies leading to labeling in children. This meant that if the drug companies performed studies on children there could be six additional months of patent protection worth millions or billions in revenue.
The moral dilemma of such studies is that children are not of legal age to volunteer themselves for such drug testing. In the past most studies were performed on healthy male volunteers. Submitting healthy children by their parents or guardians carries ethical questions not present in adult volunteers. Unfortunately, as the article points out that some drug companies wait until the patent is close to expiration before deciding on whether or not to initiate studies on children. Often the decision is based solely on the expected profit potential the drug may carry for the extra six months of patent protection. This means that these drugs were used on children for an extended period of time without any studies to justify the usage.