Screen Time Linked to Lower Brain Development in Preschoolers
A study published on November 4, 2019, in the journal JAMA Pediatrics showed that toddlers and preschoolers who use screens such as televisions, tablets or smart phones for more than one hour a day without parental involvement had lower levels of development in their brain's white matter.
The study titled, "Associations Between Screen-Based Media Use and Brain White Matter Integrity in Preschool-Aged Children" starts off by asking the basic question, "Is screen-based media use associated with differences in the structural integrity of brain white matter tracts that support language and literacy skills in preschool-aged children?"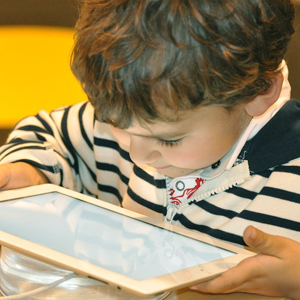 Lead author Dr. John Hutton, a pediatrician and clinical researcher at Cincinnati Children's Hospital noted that "This is the first study to document associations between higher screen use and lower measures of brain structure and skills in preschool-aged kids."
"This is important because the brain is developing the most rapidly in the first five years," Hutton said. "That's when brains are very plastic and soaking up everything, forming these strong connections that last for life."
In this study, 47 healthy children between the ages of 3 and 5 underwent special MRI brain studies called diffusion tensor imaging designed to measure the brain's white matter tracts. White matter in the brain is associated with the development of language, literacy and cognitive skills. The results of the study showed that the white matter in the brains of children who spent hours in front of screens wasn't developing as fast as it was in the brains of kids who spent less time in front of a screen.
In addition to the MRI studies, the 47 children were also given cognitive testing to see if increased screen time had an effect on cognitive skills. The results of these tests showed that excessive screen times were significantly associated with poorer literacy skills, expressive language skills, as well as the ability to rapidly name objects.
Although TV has been around for decades, the introduction of tablets and smart phones has greatly increased the amount of screen time toddlers get. Dr. Hutton reports that by the first year of life, 90% of babies are using screens.
In one of many media interviews on this new study, Dr. Hutton sums up his comments by saying, "Screen-based media use is prevalent and increasing in homes, childcare and school settings at ever younger ages. These findings highlight the need to understand effects of screen time on the brain, particularly during stages of dynamic brain development in early childhood, so that providers, policymakers and parents can set healthy limits."
The American Academy of Pediatrics guidelines recommends that preschool children not spend more than one hour per day unattended in front of screens such as TVs, tablets or smart phones. These recommendations include: 1) Children younger than 18 months only use screens when it's used for video chatting. 2) Children ages 2-5 years old only consume one hour of screen time per day of "high-quality programs." 3) Families should designate "screen-free" activities. 4) Parents should consume media with their children so they are able to provide context for what they are seeing.
---