{NYK_NEWSLETTER_HEADER}
July 2003 Issue
In this issue:
Chiropractic Inclusion in Managed Care Plans Saves Money
Lack of Sleep Can Affect Your Health
Chicken Soup for the Chiropractic

Soul

Kids and Chiropractic Down Under
Canadians Say Back Pain is an Important Health Condition, and Rate Chiropractic High
Americans Aren't Making the Health Grade
Straight From The Horse's Mouth
Chiropractic Inclusion in Managed Care Plans Saves Money
A four-year study conducted by researchers from American Specialty Health and Health Benchmarks, Inc showed that when chiropractic care is included in managed care plans, those plans actually save money. These results were reported in papers presented at the Research Agenda Conference held in March 2003. The basis of the study was to see whether chiropractic care is used as a substitute for medical care or as an add-on care in health plans that included chiropractic.
Recently there have been numerous discussions in various US state and federal governmental agencies about how to cut costs in health care. Faced with budget deficits, there have been those who suggested that cutting chiropractic care out of coverage would be a way to save money. The results of this study shows that removal of chiropractic care from health plans would actually increase the cost of care for people in the plan.
The study reviewed the health care utilization of 1.7 million people enrolled in a California managed-care plan. In this group approximately 1 million people had chiropractic coverage and 700,000 did not have any chiropractic coverage. The results showed that the total health care costs for people in the plans with chiropractic coverage was 12% lower than those without chiropractic coverage. Additionally, all health plan members who were treated for musculoskeletal conditions, total health care costs were 13% lower among those with chiropractic coverage compared to those without. The cost of treating people with low back pain was 28% lower in the group with chiropractic coverage.
The conclusions of the study showed that many people substituted less expensive chiropractic care for more expensive medical care. This resulted in a decreased use of high cost procedures. The result was that the inclusion of chiropractic care as a benefit in a managed health care plan resulted in a reduction in the overall utilization of health care resources, and a decrease in overall cost. This means that any suggestions of saving costs by eliminating chiropractic care from health care plans is wrong, as eliminating chiropractic would actually cause an overall increase in the costs for healthcare.
Lack of Sleep Can Affect Your Health
From the July 6, 2003 edition of the Atlanta Journal-Constitution comes an article about how loss of sleep over a period of time can have dire consequences on your health. The article states, "Recent research indicates that chronic undersleeping does more than undermine productivity or make people more irritable.
It also increases the risk of accidents and may contribute to serious, long-term problems such as obesity, diabetes and heart disease."
The article notes that according to the National Sleep Foundation up to 60 percent of Americans report at least occasional sleep problems. A national study published this year tracking 71,617 nurses found that women who got five hours of sleep or less nightly over a decade had a 39 percent greater risk of heart attack than those who managed eight hours. Scientists at the University of Chicago also found that building up a sleep "debt" over a matter of days can impair metabolism and disrupt hormone levels. After restricting 11 healthy young adults to four hours of sleep for six nights, researchers found their ability to process glucose (sugar) in the blood had declined, in some cases to the level of diabetics.
Dr. Carl E. Hunt, director of the National Center on Sleep Disorders Research in Washington notes, "Basically healthy adults who are acutely sleep-restricted tend to eat more, and what they eat more of tends to be carbohydrates and high in fat." One study published this year found that after two weeks of four-hour sleep, a group of healthy young adults performed as poorly on tests of alertness, memory and mental agility as those who had gone without any sleep for two nights. And they didn't seem aware of their gradually deteriorating performance.
Sleep also adds benefits to health. Researchers who scanned sleepers' brains found that the areas involved in learning new tasks remain active in slumber. This suggests that sleep plays a role in storing information for future retrieval. Dr. Steven M. Scharf, medical director of the University of Maryland Sleep Disorders Center summed up the situation nicely when he said, "I like the old days, when they played 'The Star-Spangled Banner' on TV everybody went to bed."
Chicken Soup for the Chiropractic Soul
Most of us are familiar with the series of successful books "Chicken Soup for the Soul". Well, now one more has been added to that group which speaks the truth and success of chiropractic care. "Chicken Soup for the Chiropractic Soul," by best-selling authors Jack Canfield, Mark Victor Hansen and Dr. Fabrizio Mancini was recently released and is now available.
In a review of the book, Dr. Eric Plasker states, "Inside the pages of this profoundly moving book, you will find real life stories of people who survived and triumphed over illness with the help of the chiropractic wellness model. Among the dozens of incredible testimonials are stories about newborns, athletes and average citizens whose lives have been miraculously changed by the healing touch of chiropractors."
The book contains a series of testimonials from individuals whose lives had been changed by chiropractic. One such notable testimonial was from Olympic Triathlon Gold medalist Dan O'Brien, "I have gone from the depths of despair and failure to the pinnacle of athletic and personal victory. It's been a long, sometimes anguishing, and much-publicized journey. Through it all, one thing is absolutely certain - if not for chiropractic, I would not have won the gold! " He went on to say, "I can honestly say, in the last five years, it has remarkably improved my overall wellness. I hardly ever get sick and I don't get headaches. Chiropractic helps in injury prevention, and dramatically improves recovery - which is crucial, because I've found that the body cannot heal itself if it's not in alignment"
Other stories in the book include a Vietnam veteran and former POW who wins the state golf tournament for amputees after years away from the game, a man without hope regains lost vision, an "infertile" woman who gives birth to a healthy baby girl and a child freed from migraines grows up to help others with the same problem.
Dr. Fabrizio Mancini, one of the co-authors of the book sums up the book by saying. "As you begin to read Chicken Soup for the Chiropractic Soul we hope that you will be inspired and moved by the heart warming stories of people like yourself who have chosen chiropractic for a holistic approach to healing, pain relief, and lifelong wellness. Many of the stories will sound miraculous to you - and to those who experienced them, they were indeed miracles. But once you understand the underlying philosophy of chiropractic they are not really miraculous at all; they are just the results of the body's innate healing power being released to do its work."
The book is available and can be ordered online at: https://www.parkercc.edu/chickensoup/order.asp.
Kids and Chiropractic Down Under
From the June 7, 2003 issue of the Australian newspaper "The Advertiser" comes an article that features children and chiropractic. The article begins with, "Chiropractic, long perceived as the cracking of bones – is becoming increasingly popular for babies."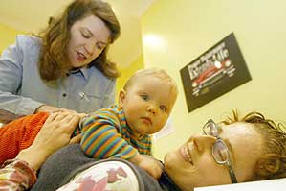 Dr. Paula Stacey, state president of the Australian Chiropractors' Association is quoted, "Babies can't tell you they've got a headache or a sore neck". She notes that chiropractors provided gentle adjustment to the head and spine of newborns and also recommended regular maintenance visits. "They get born," Dr. Stacey said. "The birthing process, coming down the birth canal, can be quite traumatic." She continues, "If the spine is in ideal alignment, you've got the best chance of the nervous system sending the messages as they should be sent."
Patient Hope Deane, said she first took her daughter Ruby to the chiropractor about two months after her birth. Now, Ruby goes for a "tune up" once per month. She explains her reason by saying, "Young ones crash all the time, or they land in funny ways, or sleep in funny ways. We're stopping the problems before they start, rather than looking for short-term results. She hasn't been sick. Maybe that's helping her stay healthy."
Canadians Say Back Pain is an Important Health Condition, and Rate Chiropractic High
From the June 25, 2003 issues of the Ottawa Citizen, and the June 26 London Free Press, comes a report on the surprisingly high rate at which Canadians suffer from back pain. According to the article, a poll released indicated that almost two-thirds of Canadians experienced back pain in the past year, while more than seven in 10 withstood back pain of some degree over the last two years. Dr. Greg Stewart, president of the Canadian Chiropractic Association stated, "This is information that is even surprising to practitioners in the back-pain industry."
Results of an Environics Research Group poll conducted in April 2003 suggest that four in 10 respondents reported pain lasting from several days to a week and almost a third said their injuries lingered for a month or longer. About 37 per cent of back pain victims said health conditions such as surgery, pregnancy or work-related injuries were at the root of their pain.
"It's accumulated damage; so if you had back pain every time you lifted or when you bent over, well it wouldn't take long for behavior to change." said Dr. Stewart. "Unfortunately these things are obviously gradual onset and so you literally get away with it too much until the damage is severe enough that the symptoms become very severe."
The poll also found that 88 per cent of Canadians rate back pain as a "very" or "somewhat" important health condition, ranking as important as cancer, heart disease and AIDS, to about a third of those. Fourteen per cent said they did nothing about their condition. Almost 55 per cent cited cost as a barrier to seeking treatment, usually because they wouldn't be covered by a provincial health plan or an employee benefits plan. Of those who sought help, 90 per cent said they were satisfied with treatment provided by a chiropractor.
Americans Aren't Making the Health Grade
The above headline comes from the June 30, 2003 ABC News online. The story is in reaction to a report commissioned by the American Academy of Family Physicians which finds that a full 98 percent of the 1,000 adults polled admit they have at least one of the unhealthy habits they were asked about, such as smoking, not exercising enough, handling stress poorly or eating a less-than-healthful diet.
Among the findings from the study that were listed in the article are:
Twenty-six percent said they smoke at least sometimes, and half of these people acknowledged it's a harmful habit.

Only 48 percent said they maintain a healthy weight.

About 42 percent of women and 31 percent of men said they aren't doing well at stress management.

Thirty-two percent said they don't limit dietary fat.

Only 25 percent said they work out vigorously five or more hours a week.

Thirteen percent said they don't have time to watch their fat intake, and 47 percent gave no reason for not watching it.
When asked why they continue a habit that's unhealthy, 24 percent said they lack willpower or self-control, and another 14 percent said stress was to blame. Dr. Michael O. Fleming, a family physician in Shreveport, La., and president-elect of the American Academy of Family Physicians, which commissioned the health behavior poll made this suggestion, "The main thing is to begin to take things seriously," Fleming says. People must realize the importance of managing risk factors for disease, he says, or they'll pay the price, probably sooner than they think.
Straight From The Horse's Mouth
An interesting and odd series of stories appearing from July 4th to the 6th, 2003 in a number of papers reported that medical students are starting to work with horses in an attempt to improve their human bedside manner. The story from Arizona AFP News starts by saying, "A group of US medical students have traded stethoscopes for horse halters and sterile hospital hallways for dusty equine exercise pens in a bid to improve their bedside manner with human patients.
The University of Arizona Medical School has introduced a course, "Medicine and Horsemanship: An Introduction to Human Nonverbal Interaction at the Bedside". Dr. Allan Hamilton, a renowned neurosurgeon and head of the college's surgery department says, "This course is not about horses; it's about body language. Horses are very, very good at detecting those unspoken messages, and it's a wonderful way to teach medical students to become aware of their own body language."
The theory behind the course is that by learning to put the horses at ease, the medical students also find out how to respond sympathetically to emotionally charged situations, such as comforting worried patients or bereaved relatives. "Horses are gigantic amplifiers for body language, and are extremely sensitive to it," said Hamilton. "What we're actually doing is transmitting a true feeling in a non-verbal way. It's a wonderful, wonderful tool for teaching about bedside manner."
The only question remaining about this is, "If the horses could talk, would this affect the results of this new course?
Please help us spread the message of health by forwarding this email newsletter onto others. Also please let us know what you think of this newsletter by replying to this email
If you would like to subscribe to this free monthly newsletter, or if you want to cancel your subscription, please click here.