{NYK_NEWSLETTER_HEADER}
May 2003 Issue
In this issue:
Pregnancy and Chiropractic

Antibiotic Resistance Now Deemed a "Public Health Crisis"

Medication Side Effects Strike 1 in 4

New Poll Says Gardening Tops the List of Back Pain Woes

Periodic Fasting May Improve Health

Chiropractors Gives Hands to Pro Golfers
Pregnancy and Chiropractic
Numerous articles and reports have been in the press recently on chiropractic care for pregnant women. One such news story appeared April 16, 2003 on the NBC TV affiliate from Providence, Rhode Island.
The news report by Health Check 10 Reporter Barbara Morse, started by featuring one woman Lee Ann, who recalled having severe pain during her pregnancy by saying, "Pelvic pain, mostly the bone. It felt like something was digging in to my bone. The doctors told me there was nothing they could do."
Lee Ann then learned that chiropractic care was available at the medical facility, Women and Infants' Hospital. At this facility, she sought the services of Dr. Ron Tyszkowski, a chiropractor at Women and Infants' Hospital. "Chiropractic is an option for them and the doctors that are on staff at Women and Infants' use specific safe techniques for pregnant women that are gentle, natural and do a really effective job of controlling those symptoms," Dr. Tyszkowski said.
The story also highlighted another chiropractic success story of a woman named Lucia. She recalled, "Where I was living during the pregnancy, I had two flights of stairs I had to go up all the time. It got to the point I could barely carry my son up the stairs." She described the outcome of the chiropractic care by saying, "I probably couldn't have gotten through it without it."
On their website, www.icpa4kids.com, the International Chiropractic Pediatric Association (ICPA) has many articles on chiropractic care during pregnancy. The articles state that a growing number of pregnant women are turning to holistic therapies, including chiropractic. Researchers at Robert Wood Johnson Medical School pooled data on 463 women who had recently given birth. In total, 31.3% of subjects used at least one type of complementary care during their pregnancies. Specifically, 5.2% visited a chiropractor; 2.8% had acupuncture or acupressure and 2.8% took vitamin supplements. 5.8% tried alternative techniques (biofeedback, meditation, yoga, tai chi, mental healing, imagery, Reiki, therapeutic touch, dance, reflex, art and aroma therapies); 24.2% used natural therapies (teas, herbs, oils and foods used for medicinal purposes). According to another study reported on the ICPA website, 82 certified nurse-midwives in North Carolina were surveyed about chiropractic care. The results showed that 57.3% of midwives participating in this survey recommending chiropractic to their patients.
ICPA Board member, Dr. Jeanne Ohm, sums up the benefits by saying, "Chiropractic care is essential for the pregnant mother. Her systems and organs are now providing for two and their optimal function is critical for the baby's healthy development. The mother's spine and pelvis undergoes many changes and adaptations to compensate for the growing baby and the risk of interference to her nervous system is increased. Specific chiropractic care throughout pregnancy works with enhancing nervous system function providing greater health potential for both the mother and baby."
Antibiotic Resistance Now Deemed a "Public Health Crisis"
The above headline is from an April 30, 2003 article from Reuters Health. On that same date panelists from the Infectious Diseases Society of America (IDSA), the Society for Healthcare Epidemiology of America, and the Society of Infectious Diseases Pharmacists warned that the medical community is losing the fight against antibiotic-resistant "superbugs" and few new drugs are in development to counter this growing threat. The article states that the panel called for "immediate national action" to limit the threat through judicious use of antibiotics and better infection-control practices.
Dr. Martin Blaser, chairman of the department of medicine at New York University School of Medicine and a representative of IDSA, told Reuters Health, "Every time you prescribe an antibiotic,
you are affecting not just that patient, but all living and all future living organisms." He went on to say, "Antibiotic resistance is a function of antibiotic use, and we're currently using tons of antibiotics. And since there are relatively few antibiotics in the pipeline, when we reach a certain level of resistance, we'll have no reinforcements."
Dr. Neil Fishman, director of the department of healthcare epidemiology and infection control and director of the antimicrobial management program at the University of Pennsylvania in Philadelphia, told conference attendees, "We used to think of resistance as predominantly a problem in hospitals. But it has become more and more common in the community. We also thought the organisms involved were different, but now, all the divisions are blurring."
The point about super infections moving outside hospitals was made in an Oct. 23, 2002 Medscape article titled, "Antibiotic-Resistant Staph Moves Outside Hospital". In this article researchers reporting at an American Academy of Pediatrics meeting stated that doctors need to be alert for an antibiotic-resistant form of a common staph infection that is quickly spreading in some communities. Sheldon Kaplan, MD, professor and vice chair for clinical affairs in the department of pediatrics at Baylor College of Medicine and chief of infectious diseases at Texas Children's Hospital noted that 70% of the community-acquired staph infections treated over the past year at the Texas Children's Hospital in Houston were resistant to a class of antibiotics that were once the first-line treatment. He said, "Five years ago, we didn't see it, now you assume the organism is resistant."
Medication Side Effects Strike 1 in 4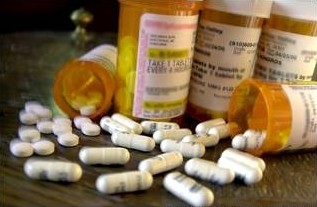 The above headline comes from one of a series of articles recently published on medical errors and side effects. The first article with the title above appeared in the April 16, 2003 MSNBC news. That article starts off by reporting that 3.34 BILLION prescriptions were dispensed in the United States in 2002 alone. With this staggering number, the article reports that side effects from prescription medicines plague one in four patients, and when they surface, most doctors fail to act.
The article was stirred by a research report published in the April 17, 2003 New England Journal of Medicine. The report was based on research performed at the Brigham & Women's Hospital in Boston. Chief author of the study, Tejal K. Gandhi, M.D., commented, "It's a problem that is common, in many cases the impact could be prevented or reduced, and it has a large impact on patients." In an editorial in that same NEJM issue, William Tierney of the Indiana University School of Medicine said, "They found that adverse drug events were fairly frequent and usually mild, although potentially serious, and preventable events were more frequent than any patient or clinician would like or should be willing to accept."
Two other similar articles reported that one-fourth of patients with health problems in five different countries say they suffered from a medical mistake or prescription error in the past two years. These statistics came from a Harvard-led study published in the May 6, 2003 issue of Health Affairs. The Harvard survey of sick adults was conducted in the United States, Canada, United Kingdom, Australia and New Zealand. At least 750 persons were surveyed in each country. Robert Blendon, the Harvard professor who led the study stated, "The biggest risk is when you're seeing multiple doctors who are doing lots of tests and prescribing a lot of drugs."
The survey also showed that more than one in four, 28 percent, of those patients who see more than two doctors in the United States and Canada said they had been given duplicate tests by different doctors. In March, the US Food and Drug Administration announced it would demand bar codes be placed on all medications used in hospitals to try to eliminate errors. It is estimated that American hospitals will spend $7 billion to read the codes and computerize doctors' orders.
New Poll Says Gardening Tops the List of Back Pain Woes
In a May 12, 2003 release from the "Canada NewsWire" was some information and advice about gardening. The news release reported on a new poll just released that reveals that gardening and yard work are the number one causes of back and/or neck pain in the spring and summer months. The poll was conducted by national research firm Pollara, where 500 Ontario Canada chiropractors were asked what were the largest causes of back and neck pain among their patients.
The results of the poll showed that eighty-eight per cent of Ontario chiropractors report that working in the yard and garden are the most common sources of back and neck pain they see during the warm weather season. Golf ranked in second place at 31 per cent, tied with outdoor sports in general at 30 per cent.
Dr. Dennis Mizel, President of the Ontario Chiropractic Association noted, "In Canada, gardening is an estimated $3.5 billion business and all that digging, lifting, raking, pruning, planting, weeding and watering can cause significant strain to the muscles and back." Dr. Mizel continued, "The good news is that it's preventable. Gardening can be a serious workout. That's why we're encouraging people to treat it like any other kind of exercise. Warming-up before digging in, and using the proper techniques and tools can go a long way to letting people enjoy the results of their labor pain-free."
The Ontario Chiropractic Association is partnering with the Ontario Horticultural Society, the Garden Clubs of Ontario and Sheridan Nurseries to help get the word out about back safe yard work and gardening. "Thousands of people visit our gardening centers once the warm weather hits," says Mary-Beth Brown, Marketing Coordinator, Sheridan Nurseries. "So we're pleased to be able to reach our customers with this public education program. It's a good idea to limber up before you get to the gardening centre and start loading supplies into your car or truck, and we always have someone to help out if a customer needs assistance."
In the article the Ontario Chiropractic Association offered several tips for back smart gardening:
Stretch Before You Start: Warming-up your muscles with stretches before going out helps to reduce the stress and strain on your joints and muscles, reducing the chance of injury.

Bend Your Knees to Lift with Ease: When lifting, keep your back straight and bend your knees. Always carry the load close to your body and avoid twisting.

The right tools, the right moves: Use the right tools and moves for the job. Kneel to plant and change positions frequently when raking, digging, hoeing or pruning. Use ergonomically designed, long handled, lightweight tools.

Take a Break Before It Aches: Give yourself and your back a break. As a rule-of-thumb take a brief rest or stretch break at least three times each hour, and drink fluids frequently.
Periodic Fasting May Improve Health
The comedian Gallager once said, "I don't know why they call it fasting, when it goes so slow!" None-the-less, a new study reported to the National Institute on Aging suggests that fasting may be good for you. An article on the subject appeared in the Tuesday, April 29, 2003 issue of the Atlanta Journal Constitution, (AJC). That article starts off by saying, "Periodic fasting may improve health and help people withstand the stresses of disease and aging."
One of the lead researchers,
Mark Mattson, explains it by saying, "What we think is happening is when you go an extended time period without food, it causes a mild stress on the cells. When a cell reacts to this stress, it may increase its ability to cope with more serious stress, such as disease and aging."
The actual research was performed on mice that were denied food on alternate days. These mice subsequently showed marked improvement in key health indicators. Researchers believe the results are relevant to human health and are designing an experiment using human volunteers. The article noted that the mice in the experiment, which were allowed to eat all they wanted on alternate days, ended up consuming about the same number of calories and weighing about the same as animals allowed to eat all they wanted all the time. The mice deprived of food for a whole day gorged the next, consuming all the calories they'd been deprived of and more.
The good news was that in the fasting mice, blood glucose and insulin levels were markedly reduced. The fasting mice also had a dramatically increased ability to withstand brain cell damage after injections of a poison into regions of the brain associated with Alzheimer's disease in humans. These mice lived 30 percent to 40 percent longer than normal, but they didn't lose any weight.
On the other side of this issue was an article that also appeared the the Atlanta Journal Constitution just three days later. In that article entitled, "Doctors frown on fasting for health", Chris Rosenbloom, a nutritionist at Georgia State University, argues that "fasting isn't normal or healthy and could be harmful. If you're fasting for religious reasons, fine, but in terms of fasting for long-term health, I'm not aware of benefits." He goes on to say, "Animals on restrictive caloric diets may have longer life spans and fewer chronic diseases, but there aren't any studies to show the benefit with people, though some subscribe to the philosophy. Without food, we can become irritated, disoriented, fuzzy-headed. I wouldn't recommend it as a way to improve longevity or health or to lose weight."
Chiropractors Gives Hands to Pro Golfers
From the March 12, 2003 TCPalm.com new website comes a short feature story on chiropractic care for professional golfers. According to the story there are currently 10 chiropractors who take turns staffing the medical teams of the Professional Golfers Association (PGA). During a tournament, the staff chiropractor will often work from 6 a.m. to 6 p.m. and care for between 25 to 40 golfers each day.
Dr. David Kassay is one of the chiropractors on the tour. He commented, "Each day, it's not unusual for a third of them (golfers) to seek some kind of medical attention. Over the course of a tournament, probably 80 percent of the players come by." The medical teams and chiropractors are housed in large, expandable trailers that have full care facilities and exercise equipment. They also have televisions with both network and closed-circuit tournament coverage.
Dr. Kassay noted where the golfers experience most of their problems during a tournament, "Most are in the neck, the upper and lower back, shoulders, elbows and wrists; areas involved in the golf swing. These guys are hitting a lot of golf balls through the day, not just in the tournament but in practice, too. All that repetition is demanding on the body. If they're not in good shape, they'll be hurting"
Please help us spread the message of health by forwarding this email newsletter onto others. Also please let us know what you think of this newsletter by replying to this email
If you would like to subscribe to this free monthly newsletter, or if you want to cancel your subscription, please click here.