May 6, 2004 Issue
In This Issue
Life University Will Keep Their Campus

ICA Board Urges Immediate Halt To "PACE" Implementation

Cleveland Conferences is Coming to Kansas City in June 2004

Coach's Corner

Why I Recommend Now You Know

Chiro-News Links

Now You Know Internet Educational Services

NYK Upcoming Schedule

Products for your Office and Practice

How to Contact NYK
Life University Will Keep Their Campus
In a stunning and wonderful chain of events Life University will be able to retain their campus. Months ago, with a dwindling enrollment, the Life University Board of Trustees and previous administration signed an agreement with the college next door, Southern Polly State University (SPSU), to sell the campus and lease back only the buildings it needed to stay in business. Most of the beautiful campus would have gone to SPSU and be lost forever.
With the hiring of Dr Guy Riekeman, and the increase in both funds and students Life University was looking for a way to stop the sale of the campus. However, the deal was iron clad and could only be stopped by the Georgia State Board of Regents refusing the deal. This scenario seemed unlikely as SPSU was getting a 55 million dollar campus for just over 32 million.
The Board of Regents met in late April to discuss and vote on the matter. It was generally expected that they would rubber stamp the deal and Life would lose their campus. However, in a stunning turn of events, it appears that many of the Regent members were lobbied to deny the deal and the outcome was a table and ultimately a killing of the deal. The result is that Life gets to retain their campus!
For more information on this story please read the following stories form the Marietta Daily Journal
SPSU s land deal with Life dies
SPSU, Life U. land deal on shaky ground
ICA Board Urges Immediate Halt To "PACE" Implementation
The Board of Directors of the International Chiropractors Association has urged a halt to the PACE program being promoted by the Federation of Chiropractic Licensing Boards (FCLB) for the regulation of chiropractic relicensure education. During their Annual Meeting held in Washington, DC, April 30th - May 1st, the ICA Board adopted a formal resolution of opposition to the PACE initiative. ICA urges all chiropractic state examining boards, state chiropractic organizations, colleges and continuing education providers to join in the effort to have PACE withdrawn by the FCLB, and to not participate should the PACE program continue forward.
For nearly two years, ICA has sponsored a PACE Study Group chaired by ICA Board Member Dr. Gary Walsemann of New Hampshire, 12-year veteran of his own state's board of chiropractic examiners. The results of this study process were the basis of ICA's Board action. "Despite promises of major changes in the initial proposal, ICA can find no compelling evidence that the initial objectives and terms of the PACE proposal have been altered by its proponents," said Dr. Walsemann. "This proposal represents a new layer of extra-legal regulation that will, despite all of the assurances given by its advocates, add an unaccountable, unregulated and unnecessary addition to the burden an already hard-pressed chiropractic profession will have to bear, and should be withdrawn."
Among ICA's top concerns are:
The initiative will add significantly to the cost of chiropractic postgraduate education, all of which will be passed on to the doctor in the field.
The economic price will be especially painful to the chiropractic colleges, state associations, postgraduate councils and continuing education providers.
This proposal appears to represent a completely unwarranted tax on doctors in practice, not to mention another layer of bureaucratic and financial demands on educators and educational institutions.
No evidence can be identified that indicates in any way that the quality of clinical practice or other professional elements will be enhanced through this cumbersome and expensive system.
The entrepreneurial aspects of the initiative in the interests of the FCLB should not be obscured or minimized by any entity considering this proposal. In this evaluation process, it is vital to consider whether the economic costs to the profession, levied in the form of obligatory added costs for continuing education, to the sole benefit of the FCLB, are in the profession's best interests.
The potential restrictions and limitations to the free exchange of ideas inherent in the proposed approval process.
The issue of examinations following seminars is especially problematic for the doctor in the field both because of the cost and because of the lack of any evidence to indicate that such a burden adds anything of substance to the educational experience.
There is no basis for the argument that the "PACE" system would in any way enhance chiropractic's political status or positive profile.
Of the more than 2,000 individual doctors of chiropractic and the several dozen organizations with whom ICA has consulted or had unsolicited contact, all are in opposition to this proposal because of the many elements outlined above.
ICA urges all state chiropractic board representatives that will be attending the Denver FCLB Annual Conference to speak and vote in opposition to the PACE proposal.
"This issue cuts across all geographic, philosophical and organizational lines, and ICA wants to be very clear about its opposition to the PACE proposal. The lack of willingness of PACE proponents to make anything other than cosmetic changes means that the initiative still retains the potential for the grossest abuse. We have no choice but to call for its demise," Dr. Walsemann concluded.
Cleveland Conferences is Coming to Kansas City in June 2004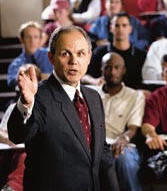 After a successful inaugural event in Los Angeles in 2003, Cleveland Conferences is coming to the heartland -- Kansas City to be exact. Mark your calendar today for June 10-13, 2004 and join colleagues from around the country to celebrate the principle, practice and passion of chiropractic.
Cleveland Conferences is much more than a license renewal seminar (although it's been submitted for 24 hours). In fact, it's license renewal with a kick! Some of the greatest speakers in chiropractic will be on hand, including Drs. Bruce Lipton, Larry Markson, Bob Hoffman, Carl S. Cleveland III, Daryl Wills, C.J. Mertz, John Triano, John Demartini, Gary Guebert and more. Dennis Eschbach, D.C., and Drew Spivak, D.V.M., will team up for a fascinating presentation on Animal Chiropractic. And don't miss a musical performance by special guest Larry Gatlin of the world-famous Gatlin Brothers!
The event will take place at the Marriott Hotel in Overland Park, Kan., a suburb of Kansas City. To register today, call 1-800-628-9592. See you in Kansas City – at the Cleveland Conference!
Coach's Corner
Powersource Coaching - What would it be like to have a practice that is low stress, full of families who pay for their care, refer others, and get the "big idea"? I can tell you, it is rewarding, fulfilling, incredibly profitable, and a blast! Would you like to have more energy, more passion, and more fun? I can help you achieve your dreams.
Dr. Shawn Powers will deliver specific individualized coaching with the focus on personalized solutions for your practice. You will not get a cookie cutter approach; you will obtain specific and personalized strategies unique to your particular needs. You will be educated, informed, motivated and held accountable. As in my chiropractic practice, my client retention is high, therefore only a limited amount of new clients are accepted. I am a principled chiropractic, providing exquisite service to my clients so they may fulfill their ultimate destiny. If you decide to invest in your destiny and want more information call me at 512-306-1844 or check out my website at www.powersourcecoaching.com.
Why I Recommend Now You Know; by Dr. Jay Handt
Undoubtedly, the best way to keep your patients informed, educated and up-to-date in their high-speed, ever-changing world is by incorporating a Now You Know website into your patient protocol!
Now You Know has mastered the art of crunching all of this information into bite-sized, understandable pieces, so you can benefit from your patients greater understanding of Chiropractic and it's place in modern health and wellness care.
Both you and I know that patient education is the cornerstone of any large referral practice. What better way to enhance your Report of Finding or orientation than by having your patients do what they do best . . . spend time on the web! My Now You Know website not only helps my patients learn about Chiropractic, but it gives them the tools to share Chiropractic and my office with their family and friends! They are actually proud that their Chiropractor is on the cutting edge of technology! They have the pleasure of showing off your office without ever leaving their home or office.
In the past, most patients used to say, "If I could just get my friends to meet you and see the office, I know they'd start under care. BUT, they won't come in." Now, if I get this "Mohammed won't come to the mountain," reaction, we encourage our patient to "bring the mountain to Mohammed!" They introduce friends and family to their Chiropractor and The New York Chiropractic Life Center via my website! It's definitely one of the best referral tools out there! It's non-confrontational, highly visual and totally accessible!
Chiro-News Links
There is a lot of chiropractic news that makes the general media world-wide. Not all the news is good, but it is worth knowing about. To help keep you informed, Now You Know has added this Chiro-News section with links to some of the various news items about chiropractic. To see the articles, please click on the headline link below.
Now You Know Internet Educational Services
Now You Know Websites: Our combination of features, updates, message quality and quantity of content has made Now You Know the largest provider of individual websites to the chiropractic profession. There are 33 templates to choose from, over 700 pages of content, and many other features at a great price. Check out the ever growing list of features on our website at: www.nowyouknow.net, then click on "Website Service".

Now You Know Email Newsletter Service: Our newsletter is the most popular patient email newsletter in chiropractic. Current and hard-hitting articles on health and chiropractic issues delivered directly to your patient's inbox has made our newsletter service unsurpassed in chiropractic. Additionally, our newsletter service now allows our subscribers to easily send bulk emails out to your entire list. So, not only do your patients get the great stories and articles from the NYK Newsletter, but they can also get updates created by you!

Echiropractic: We push the technology window to the limit with online chiropractic pamphlets, cards, and office letters for your unlimited use. This service allows the subscriber to send unlimited individual emails directly to patients. Each Echiropractic message can be customized with a message from the doctor. This service is similar to some other popular online greeting cards, with one big difference. These messages are for chiropractic offices with chiropractic messages.

Now You Know Premium Package: Using all three educational services above the Premium Package is the best resource available for complete online educational tools in chiropractic. All this is packaged together at a great savings.
NYK Upcoming Seminars and Shows
We would like to thank the many associations, organizations and groups that have us speaking on their programs . Dates permitting, we would love to participate at your Association or Society convention as well. If you are interested in having us at your program, please contact us at either nowyouknow@nowyouknow.net or call us at 800-695-8937. Below is a list of programs and speaking engagements we have scheduled in the near future.
When

Who-Where

Contact

May 22 - 23, 2004
Speaking & Booth

"Chiropractic Without a Doubt"
by ICA, Houston TX

ICA 1-800-423-4690
www.chiropracticwithoutadoubt.com

May 27 - 29, 2004
Booth

Sherman Lyceum
Spartanburg SC

Sherman College
www.sherman.edu

June 4 - 6, 2004
Speaking & Booth

Florida Chiropractic Society
St Petersburg FL

Florida Chiropractic Society
www.fcschiro.com

June 5 - 6, 2004
Speaking & Booth

"Chiropractic Without a Doubt"
by ICA, in PA

ICA 1-800-423-4690
www.chiropracticwithoutadoubt.com

June 11 - 12, 2004
Booth

The Family Practice
TBA Arizona

866-LEAD-DCS (532-3327)
www.thefamilypractice.net

June 25-27, 2004
Booth

ICA Council on Chiropractic Philosophy
Radisson South End Plaza Tower, Minneapolis MN

ICA 1-800-423-4690
www.chiropractic.org

July 10 - 11, 2004
Speaking & Booth

"Chiropractic Without a Doubt"
by ICA, TBA

ICA 1-800-423-4690
www.chiropracticwithoutadoubt.com

July 22 - 25, 2004
Booth

Life Source Seminars
The Westin Atlanta North, Atlanta

Life Source Seminars
www.lifesourceseminars.com

August 19 - 22, 2004
Speaking & Booth

Florida Chiropractic Society Convention
Breakers Hotel Palm Beach FL

Florida Chiropractic Society
www.fcschiro.com

August 19 - 22, 2004
Booth

ICA Pediatric Council Convention
New York Marriot, NY, NY

August 28 - 29, 2004
Speaking & Booth

"Chiropractic Without a Doubt"
by ICA, TBA

ICA 1-800-423-4690
www.chiropracticwithoutadoubt.com

September 25 - 26, 2004
Speaking & Booth

"Chiropractic Without a Doubt"
by ICA, TBA

ICA 1-800-423-4690
www.chiropracticwithoutadoubt.com

October 23 - 24, 2004
Speaking & Booth

"Chiropractic Without a Doubt"
by ICA, TBA

ICA 1-800-423-4690
www.chiropracticwithoutadoubt.com

October 21 - 24, 2004
Speaking & Booth

New Beginnings
Ocean Place Conference Resort,
Long Branch NJ

New Beginnings
www.newbeginningschiro.com

October 27 - 30, 2004
Booth

Life Source Seminars
The Westin Atlanta North, Atlanta

Life Source Seminars
www.lifesourceseminars.com

November 4 - 7, 2004
Booth

"Masters Circle Superconference"
Rio Hotel, Las Vegas

800-451-4514
www.themasterscircle.com

November 20 - 21, 2004
Speaking & Booth

"Chiropractic Without a Doubt"
by ICA, TBA

ICA 1-800-423-4690
www.chiropracticwithoutadoubt.com

December 4 - 5, 2004
Speaking & Booth

Florida Chiropractic Society
20 hour express - Orlando Airport Hyatt

FCS
www.fcschiro.com

More dates & locations to come in 2004 as they are confirmed.
Products for your Office and Practice
| | |
| --- | --- |
| NYK Patient Lecture Presentation: Now You Know offers the most graphically impressive patient lecture available in chiropractic. Use hi-tech graphics and dazzling images to teach your patients about chiropractic and your office. Now available with both a CD-Rom for Laptop and LCD projectors, as well as 35mm slides for slide projector presentations. This presentation also comes with an audio tape of the program being given live to be used as a training tool. | |
| Chiropractic Depot: (www.chiropracticdepot.com) This website features supplies and equipment to help chiropractors and those involved with chiropractic have better access to the tools and services they need to grow and reach more people. The products included on this site include the "ShowMax Spinal Screening Display". This display is the ultimate spinal screening tool. Also, we now have the new electronic "Sign-In". Why have paper sign-in sheets when you can have patients sign this permanent electronic record. Click on the thumbnail to the right for more information. | |
| Chiropractic Without A Doubt Seminar (www.chiropracticwithoutadoubt.com) This program, featuring Dr. Steve Hoffman and myself, covers the range of science, technique, research, and education technology for chiropractic. Response to this program has been very positive as attendees not only get license renewal credit but also get valuable information that can be used in practice the next day. You can click on the thumbnail to the right to go to the website and get more information and the upcoming schedule. To register please call the ICA at 800-423-4690. | |
General NYK Mailing Address:
Now You Know Inc.
PO Box 2210
Marietta, GA 30061-2210
We're just off the beautiful Marietta Square.
Use our toll free number to reach any of our departments
1-800- NYK-U-YES
(1-800-695-8937
)
Our Email addresses: