New Mexico Update - March 17, 2011
In This Issue:
---
Chiropractic Victory in New Mexico! - Almost!
In a Thursday morning meeting of the New Mexico Senate Judiciary Committee, HB 127, the bill designed to give chiropractors prescriptive rights, was defeated. In a 5 to 2 vote, the members of the committee voted not pass the bill through committee and send the bill to the Senate floor.
Under normal circumstances this would signal the death of any piece of legislation for this session, which ends this Saturday.
According to sources on in New Mexico, the flood of calls and contacts made to legislators against this bill had an impact on turning the tide. The tally ranged from 40 to 1 to as high as 60 to 1 against passing this bill. Calls and contacts came in from not only New Mexico, but also from all over the US as well as many from many other countries.
However, opponents to the bill warn that with the emotions running high on both sides of this issue, the process cannot be totally discounted until the legislative session officially ends on Saturday March 19th. The possibility still exists for an 11th hour rules maneuver to bring HB 127 to the Senate floor, or an amendment to an existing piece of legislation to place the language from HB 127 onto a more popular bill.
Although this is a really good win for chiropractic and the public in general, it would not be the first time that last-minute back room politics get bills passed that would never get done in the light of day. The closing minutes of a session are always the most dangerous. Lawmakers can almost do anything, figuring that they can go home shortly and not have to suffer the immediate pressure and consequences of an unpopular vote. In other words, until some fat lady sings about the official adjournment of the New Mexico legislative session, "it ain't over till it's over".
---
(The below is the official ICA release on the New Mexico Events)
New Mexico Senate Judiciary Committee Votes Down Chiropractic Drug Bill
March 17, 2011-- In a morning session today at the State Capitol in Santa Fe, the New Mexico State Senate Judiciary Committee voted 5-2 against passing the controversial HB 127 on to the Senate floor. The 11-member Judiciary Committee heard testimony from a variety of witnesses on HB 127 including Dr. Gerard W. Clum, immediate past President of Life Chiropractic College West appearing on behalf of the ICA and Dr. Guy Riekeman, President of Life University in Marietta, Georgia. Dr. Clum and Dr. Riekeman presented
a compelling case in opposition to this legislation. Speaking on behalf of the bill were Dr. James Winterstein, President of National University of Health Sciences in Lombard, Illinois and Dr. Joseph E. Brimhall, President of the University of Western States in Portland, Oregon.
Today's vote was preceded by an aggressive lobbying campaign in which thousands of concerned doctors of chiropractic, patients, students and lay people made their voices heard in opposition to this controversial measure.
ICA coordinated a broad-based coalition of other chiropractic organizations, individual DCs and patients, proactively spoke out on behalf of its membership in New Mexico and the tens of thousands of patients of all ages they serve in opposition to HB 127. This legislation would make unacceptable and inappropriate changes to the way the chiropractic profession is defined and regulated in the state. This legislation sought to re-define the chiropractic profession as a "medical" practice. ICA believes that this language change is inherently confusing to the public, improperly portrays chiropractic training and practice parameters and is subject to inappropriate exploitation at the hands of a fringe minority within the chiropractic profession and should not be incorporated into the New Mexico statute governing the chiropractic profession.
HB 127 also sought to significantly expand the scope of chiropractic practice into the realm of medical practice by including the prescription and administration of pharmaceuticals, changes strongly opposed by a vast majority of the chiropractic profession.
The defeat before the Senate Judiciary Committee would normally be the end of this legislation but the ICA remains concerned that some parliamentary steps might be employed to revive the status of HB 127 before the end of the current legislative session. Concerned doctors of chiropractic in New Mexico, ICA's Legislative Committee, allied institutions and organizations, volunteers and professional staff will maintain a vigilant watch to identify and immediately respond to any such moves.
The current legislative session is scheduled to end at Noon on Saturday, March 19th.
ICA will keep the chiropractic profession fully informed on developments on this critical legislative front.
---
For Chiropractors, By Chiropractors
Now You Know is a company "For Chiropractors, By Chiropractors". With NYK, this is not just a slogan. It is a mission! We are not a technology company, trying to adapt our services to sell to chiropractors. We are a chiropractic company that creates technology to help spread the chiropractic message.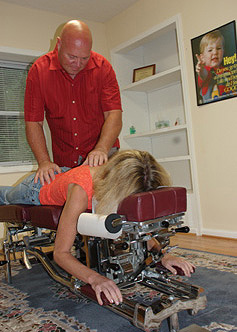 There is a difference when you are a chiropractic company, and you take the mission of chiropractic seriously. First, the products, services, and educational material created are designed for actual in-office use. All the services were developed and tested in chiropractic offices out of the needs of actual office situations. This has allowed us to develop many features that were firsts in chiropractic Internet education.
We also put our money where our heart is. No other company donates as many resources back to the profession as Now You Know does. NYK hosts and maintains more free-of-charge state association sites than anyone else. At considerable expense, we host several national association sites, also free-of-charge. We also host and maintain numerous seminar and meeting websites, as well as a variety of causes in chiropractic. We do this, not because it is good business, but because we are chiropractors and we care.
We have, and continue to give back to the profession in both political action, and free services and resources. Our leadership has been, and continues to be, politically active in chiropractic to help advance our profession. Our leadership also teaches and speaks at a wide variety of chiropractic programs and seminars to help spread the chiropractic message.
In the past few years, we have given away nearly 10,000 "My Mission" posters, making this poster the most widely-seen poster in chiropractic offices today. We are now distributing the "Health is a Choice" posters free at the many events where NYK participates.
The bottom line is NOT the bottom line with NYK. There are many things we do in chiropractic that are good for chiropractic, but not necessarily the best business decision. We are concerned more about chiropractic and chiropractors, than the bottom line. We keep our priorities focused on what is best for you the chiropractor, and the profession we love. That's why we can proudly say that Now You Know is a company "For Chiropractors, By Chiropractors."