Happy Holidays - December 2012
In This Issue:
---
Now You Know introduces the next generation Chiropractic News Service (CNS) which now gives you the option to play endless YouTube® videos in your waiting room. There are hundreds of great educational videos on chiropractic that NYK subscribers can play all day long in their waiting room.
There are hundreds of YouTube® videos that explain and educate about chiropractic. There are also thousands of other videos that offer health and wellness tips that you may choose to select to be played in your waiting room.
With the new CNS, you can also create your own videos, publish them on YouTube®, then put them into your CNS playlist, and play them in your waiting room. If you have video testimonials, and permission of your patients, you can put success stories on YouTube® and play them in your waiting room on your CNS screen.
The CNS still includes a welcome screen for your personal messages, a photo gallery for your uploaded pictures, and three days of the local weather. You then can choose to either play the videos in your playlist, or select the CNS to play news articles from the large database of NYK health and wellness articles.
The New CNS is included at no extra charge for those with an NYK website. For those who do not have a NYK website, the New CNS can be purchased separately for only $39.95 per month with NO set up or start up costs!
---
Dr. Brian McAulay Named New President of Parker Chiropractic College
The recent changes in presidents of chiropractic colleges now includes Parker college with their appointment of a new president, Dr. Brian McAulay. Dr. McAulay has been serving as the Provost of Life University and was a past president of Sherman College.
The Parker Board of Trustees issued a statement saying, "The presidential search committee and Board of Trustees felt that Dr. McAulay was the best choice to lead Parker into the future," said Dr. Lassiter. "In the search for a new president, the search committee was mindful of the expansion in the role and mission of the institution as a university. In that regard, Dr. McAulay has a PhD in business and management, the doctor of chiropractic degree, and further professional education at the Harvard University Institute for Educational Management, and was awarded a post-doctoral fellowship in educational administration by the American Council on Education. In addition, a noteworthy aspect of his professional experience is service as a chiropractic department chair and teaching experience in business and management at Philadelphia University and Temple University."
"I am very proud to become a part of the Parker family and I look forward to helping the institution maintain its reputation as one of the premier schools in chiropractic education." said Dr. McAulay. "While Parker's history is rich with tradition and success, it's the future that is so intriguing to me. This is an exciting time for Parker as the institution looks to expand into new degree programs that complement and support chiropractic. I believe my experience in balancing program expansion and foundational chiropractic programs will certainly be a benefit to Parker in the coming years."
Dr. Guy Riekeman, president of Life University, stated in a release, "This news is bittersweet for us here at LIFE. We are excited for Dr. McAulay and harbor immense pride that he will continue to be a leader in the profession and have tremendous impact on education based on principled, vitalistic chiropractic. We have every faith in Dr. McAulay's abilities and skills to lead Parker University through its next period of growth and development as the institution continues to make its mark as a dynamic and positive place to earn a chiropractic degree."
---
Supporting Research That Supports Chiropractic
As a chiropractor and author, I realize the importance of having research that documents and demonstrates that which I see in my office every day. The Journals of McCoy Press help us at NYK create good, solid and legally defendable content for our subscribers websites.
We at Now You Know recommend that every doctor of chiropractic subscribe to these journals. Not only will they help you in practice, but they help support chiropractic research and the very future of our profession. Click on either of the images for more information and to subscribe to these important journals.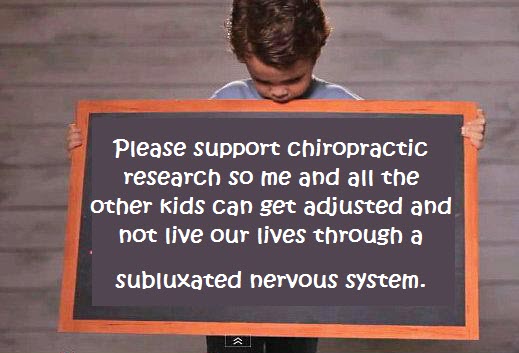 Now You Know is thankful for providing us and the entire profession with credible, chiropractic research, that we utilize to write our patient newsletters. This not only helps change minds about chiropractic, but it also protects the chiropractor from content on their website that opens them up to liability issues.
Dr. Matthew McCoy, editor of these research journals and CEO of ChiroFutures malpractice insurance notes, "ChiroFutures prides itself on being proactive when it comes to things that put chiropractors at risk in malpractice cases and regulatory board actions. One of those areas is related to your website. Don't trust it to just anyone. We trust Now You Know and you should too."
---
The Good, the Bad, and the Subluxated! - AKA - Chiropractic in the News