June 2013
In This Issue:
---
Subluxation Awareness Campaign Gaining Momentum
The Subluxation Awareness Campaign is gaining momentum and this year should be the best yet. Subluxation Awareness was started by the Georgia Council of Chiropractic and involved several aspects. One of the highlights was when the Governor of Georgia, the Hon. Nathan Deal, signed a proclamation declaring September to be "Subluxation Awareness Month."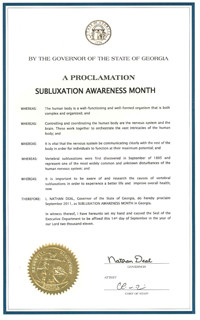 This year, the Georgia governor is expected to sign the proclamation again. In addition, several other chiropractic state organizations are also working on getting their governors to sign similar proclamations. Florida, Pennsylvania, Connecticut and several other states report progress on getting the proclamation for Subluxation Awareness Month signed by their states' governor.
A website has been donated and set up by Now You Know for information and reporting on the progress of the Subluxation Awareness Campaign. The site can be found at: www.subluxationawareness.org.
Many chiropractors have asked how they can get their state involved in Subluxation Awareness. Here are several steps.
Get your state chiropractic association to endorse the subluxation awareness campaign. It costs them nothing, but will help in their mission to educate the public.
Preferably as a group, approach your state governor's office and ask about having the governor sign a health education proclamation. A staff member will probably fill you in on the steps needed in your state.
Show the staff person or the governor the proclamation signed by the Georgia governor as well as the generic one created by the Subluxation Awareness Foundation. Both can be found on the website.
Ask if you can have a group of chiropractors take a picture with the governor along with the signed proclamation. Explain that this will be used in public press releases as well as in your state publication, and copies will be displayed in hundreds (or thousands) of chiropractic office across the state.
When you are successful, please send pictures and a story to us so that we may add that information and a copy of your state's proclamation to the Subluxation Awareness Website. This is a great opportunity to educate the public on the dangers of nerve interference as well as the benefits of living a subluxation-free life.
---
What are your Patients Reading?
As chiropractors, we believe in quality information for our NYK Real-News email newsletters and our ADJUSTable websites. The articles that we release are intended for our own patients as well as our subscriber's patients. Relevant, well written, timely and sourced content builds respect and credibility. Quality content influences and motivates your patients which increases their desire to make referrals. Your patient's referrals translate into more new patients for your office.
Below is an article that was included in this past month's NYK Real-News email newsletter, and now also appears on all the NYK subscribers websites. This article represents just one of six that were in this latest edition. When it comes to referral stimulation and patient retention, it is all about the quality of the content.
More US Babies Die on Their First Day Than in 68 Other Countries, Report Shows

The above headline comes from an NBC News story on May 7, 2013. The story, and several more in other news outlets, is based on a report released April 30, 2013 titled "Surviving the First Day", by the organization, Save the Children. The study shows that the United States ranks 68th in the world for infant survival beyond the first day. This places the US last among industrialized nations, and behind such countries as Cuba, Egypt and Mexico.

The report shows that in the US three babies die in their first day for every 1000 born. Page 55 of the report states it clearly by saying, "The United States has the highest first-day death rate in the industrialized world. An estimated 11,300 newborn babies die each year in the United States on the day they are born. This is 50 percent more first-day deaths than all other industrialized countries combined."

The US spends more on healthcare than any other nation. The US also uses a very high rate of medical intervention in child birth with a national cesarean birth rate of over 32 percent. In some hospitals the cesarean rate is almost 70 percent.

An article in Consumer News on May 8, 2013 questions medical intervention in childbirth in the US. The article starts off by saying, "Pregnant women often undergo medical procedures and invasive interventions, including induced labors and cesarean sections, without fully understanding the risks or being involved in making decisions about their care."

According to the findings of a major new survey conducted by Childbirth Connection, a nonprofit organization that focuses on maternity care, many procedures are unnecessary and carry risks the expecting mother may not be aware of. Maureen Corry, M.P.H., executive director of Childbirth Connection stated, "Our survey suggests that pregnant women need to take a more active role to make sure they get the care that is best for themselves and their babies. They need access to trustworthy information about the benefits and harms of interventions, to educate themselves, and be their own advocate."

The Surviving the First Day report notes that the US has a very high rate of premature births, which they feel contributes to the high death rate. The report notes, "Many babies in the United States are born too early. The U.S. preterm birth rate (1 in 8 births) is one of the highest in the industrialized world (second only to Cyprus). In fact, 130 countries from all across the world have lower preterm birth rates than the United States. The U.S. prematurity rate is twice that of Finland, Japan, Norway and Sweden. The United States has over half a million preterm births each year – the sixth largest number in the world (after India, China, Nigeria, Pakistan and Indonesia)." The report continues, "According to the latest estimates, complications of preterm birth are the direct cause of 35 percent of all newborn deaths in the U.S., making preterm birth the number one killer of newborns."

The report also points out that the US has a high rate of adolescents giving birth. "The United States also has the highest adolescent birth rate of any industrialized country. Teenage mothers in the U.S. tend to be poorer, less educated, and receive less prenatal care than older mothers."
---
CNS YouTube® Video Review
YouTube® Videos for your Chiropractic Office
YouTube® videos have quickly become one of the most effective and dramatic ways to educate patients in your office about chiropractic. With Now You Know's CNS 2.0, you can switch between playing YouTube® videos or articles from the archive on your website to better educate your patients. To help you select videos for your CNS player, we thought it would be helpful to review videos each month and provide a recommended list. NYK Website and CNS subscribers can then add these to their CNS video playlist to play in their office on their CNS.
The CNS is available as a stand-alone product through Now You Know whether you are a Now You Know subscriber or not! There are no start-up charges and the cost is a very reasonable $39.95 per month with NO contracts. An even better deal is that the CNS is included at NO additional charge to all Now You Know website and premium subscribers. Please call us at 1-800-695-8937 if you have any questions about the Chiropractic News Service.
Title
URL
Chiropractic and Attention Deficit Hyperactivity Disorder
http://youtu.be/HAB9-HS7IEk
This is a TV News story about chiropractic helping with ADHD. Positive press never hurts if it is about chiropractic.
The effects Subluxation explained with lights
http://youtu.be/WjFwhyyElOY
This is a new twist on the old standard explanation of power off - power on using a light bulb. This one uses three lights to show how subluxations have different effects on different parts of the body.
School House Rock - The Nervous System
http://youtu.be/6BgfKqc3qhs
This video is not about chiropractic. But it should be! This video designed mainly for children to show them the importance of the nervous system. This makes telling our chiropractic story easy.
It's for the Children of the World
http://youtu.be/EDY8l4i4drA
This music video uses images, videos, and music in a collage that excites the viewer about a better world through chiropractic. This may get them dancing in your waiting room.
Talk the TIC 2011 - Lee Thomas
http://youtu.be/3j8azWL_M3U
I wish all chiropractic students could say it this well. I wish all chiropractors could tell the story this well. This young man can really tell it like they can understand it.
Songs of the Chiropractor
http://youtu.be/YFeHC3q8PHw
Sometimes we have to laugh at ourselves. This video comes from the TV show, "Who's Line Is It, Anyway?" In this clip, the cast is asked to perform, "Songs of the Chiropractor." Hysterical!
If you know of YouTube® videos that you would like us to review and consider recommending, please email the the URL to bbraile@nowyouknow.net.
---
The Good, the Bad, and the Subluxated! - AKA - Chiropractic in the News