September 2001 Issue
If you have received this newsletter in error, or if you would like to not receive future issues please reply to this email and place the word "Remove" on the subject line.
In This Issue
Chiropractors React to National Tragedy
NYK introduces "Plus" program
A Special Request
A Personal Message, by Bob Braile, DC
Our Upcoming Schedule
Now You Know Products and Services
Chiropractors React to National Tragedy
The events of September 11, 2001 will in some ways change our lives forever. As chiropractors many of us have been searching for a way to offer what we have to help those most closely affected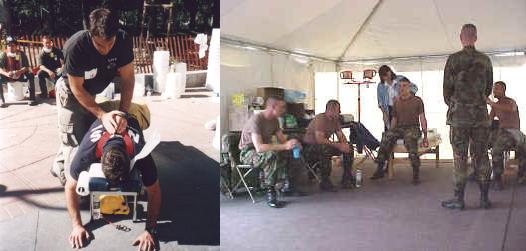 by these events. Many of us have given money to the various different groups who are involved in helping others. Some chiropractors in both Washington and New York have taken to the streets to help those who are helping others.
While the grim job of recovering bodies continues at both sites, chiropractors have set up stations to adjust the rescue and cleanup workers. In New York the New York Chiropractic Council has spearheaded efforts to set up chiropractic stations along the perimeter. In Washington, the ICA has set up a chiropractic station at the Pentagon to adjust all those workers and military personnel who want Chiropractic care. The reports from the Pentagon are that over 200 people every day are stopping by the tent to have one of the dozen chiropractors adjust them. The people being served are very grateful and appreciative of the chiropractic care.
Immediately after the tragedy I was struggling with the concept of how to do more. It was then that I received an email from a dear friend, Dr. Danita Heagy, that she had sent to her patients. Her words helped answer my concerns and strengthened my resolve to get through this event by focusing on serving those that Innate has sent to me. Her letter said:
"My love and prayers go out to all of you in this difficult time. Know that our hearts are united as a nation and that we have the highest and best leaders of any country in the world. We are brought together, united in this tragedy. What works for me best right now is to focus on the peace within myself, so that I can serve others. I hope that is helpful to you too, because getting lost in the storm of chaos and television coverage is fruitless. Our love goes out to the people of New York and Washington, and to the families who have lost loved ones."
There are also many other wonderful letters and accounts of chiropractors wanting to help that can bee seen on the web site, www.planetchiropractic.com. One story in particular that struck me was on the page, http://www.planetc1.com/cgi-bin/n/v.cgi?c=1&id=1000696498 , as well as many comments on the page, http://www.planetc1.com/cgi-bin/n/v.cgi?c=1&id=1000441534 .
NYK introduces "Plus" Program.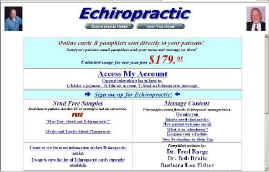 Now You Know has introduced our PLUS program as an add-on to our current subscription choices. Current and new Subscribers to Now You Know's website or newsletter services can add the Plus package for an additional $10 per month.
This new Plus package gives the subscriber unlimited access to sending email cards and letters using our Echiropractic service. If you have ever used an online greeting card service, you know how easy it is to send greetings. Now you can send chiropractic health pamphlets, greetings and office letters to patients directly through their email. Each Echiropractic ecard comes with full color pictures and many with music.
Some of these cards are health brochures much like the printed ones you distribute in your office. Others are letters you can use to welcome a new patient, reactivate a former one, or to thank someone for a referral. These letters and pamphlets were written by myself along with Dr. Fred Barge. Three special pamphlets on vaccination were also written by Barbara Loe Fisher of the National Vaccine Information Center.
Now You Know subscribers who add the Plus package to their subscription save $60 over the regular Echiropractic subscription rate. For further information you can visit either our main site at www.nowyouknow.net, or visit our Echiropractic site at www.echiropractic.net. Current NYK subscribers who wish to add the Plus package please look for the special flyer in your quarterly billing statement.
A Special Request by Dr. J. W. Dubel & New Beginnings
To All,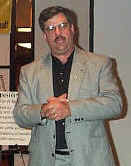 Our upcoming New Beginnings Weekend will be in a few short weeks. The tragedy in America will undoubtedly still be going on and major healing will need to occur. I fear that things may be worse before they get better. New Beginnings will be in honor of those who have lost their lives and those who volunteered here in the Northeast in this time of National turmoil. I personally was effected by the terrorist attacks as I lost patients and friends.
Each day when the wind is coming toward New Jersey we can smell the smoke and decay of the World Trade Center remains, it's a very scary thing. The news reports on television are giving only a small account of the tragedy, if imaginable it is 100 times worse. No one could imagine it unless you are here in the Metropolitan area and experience it.
We all need to join together at New Beginnings the first weekend of October to pay tribute to America and those families who are suffering here in the Northeast, close to home. Even if you can not make it to our entire weekend, I welcome all Chiropractors, family, patients and friends to attend our Candle Light Closing Vigil in giving our prayers to those who need them most.
May God flow from above, down to you, with his bounteous strengths and express inside you, that Innate wisdom, so you may outwardly change his world. All My Love, Loyalty and Friendship.
Jim Dubel, Chiropractor
A Personal Message, by Bob Braile, DC
In light of all that has happened and all I have read from other chiropractors, I feel more pride than ever in our wonderful profession. We have a unique gift that brings health, joy and happiness into a world that sorely needs it at present. What can we do right now to help? Adjust! Turn on the power! Make the world a better, less subluxated place to live in one innate at a time. A few years ago, innate inspired me to write something that now seems even more important in keeping us focused on our mission. So for those who would like to read it, I offer it below.
My Mission for Today,
I am a chiropractor. Today, I will love everyone, serve everyone, and give the message of chiropractic to everyone I contact. Every man, woman and child needs my help Today, in becoming and remaining subluxation free. At no time Today, will I withhold the truth of chiropractic for fear of rejection.
Today, I am an expert at correcting subluxations. I will correct subluxations on everyone I care for. When I do this, the power within them, heals them, every time without exception. I CAN help everyone I see Today.
Today, I ask for the strength to serve all those who are coming to see me. I ask for the love to give fully to each one individually. I ask for the innate wisdom to correct every subluxation I lay my hands on Today. And I ask for the authority to convert others so that Today, they may share in, and spread the truth of chiropractic.
Today, I serve God by serving others through the gift of chiropractic.
Today, I am a chiropractor.
Our Upcoming Schedule
Now You Know will be on the road quite a few times in the coming months. We hope to see as many of our readers at these events as possible. At several of these programs we will be teaching our "Internet Practice Seminar", on how to maximize this technology to teach and motivate your patients. The dates are listed below.
When
Who-Where
Contact
October 4 - 7, 2001
Speaking & Booth
New Beginnings
Sheraton Hotel Eatontown,
New Jersey
New Beginnings
732-747-4646
www.newbeginningschiro.com
October 5 - 7, 2001
Speaking & Booth
Michigan Chiropractic Council
Novi Hilton
MCC
www.michiganchiropractic.org
October 25 - 28, 2001
Booth
Dynamic Essentials
Atlanta Renaissance Waverly Hotel
Dynamic Essentials
800-233-5409
www.lifede.com
November 8-10 2001
Booth
ICA Pediatric Council Conference
Colorado Springs
ICA
1-800-423-4690
www.chiropractic.org
December 7-9, 2001
Booth
FCS Convention
Orlando Airport Hyatt
1-800-335-4897
www.fcschiro.com
Jan. 24-27, 2002
Booth
New Beginnings
Sheraton Hotel Eatontown,
New Jersey
New Beginnings
732-747-4646
www.newbeginningschiro.com
February 22-24, 2002
Booth
Arnold Classic & ICA Sport Fitness Symposium, Columbus, Ohio
ICA - 1-800-423-4690
www.chiropractic.org
April 25-28, 2002
Booth
New Beginnings
Sheraton Hotel Eatontown,
New Jersey
New Beginnings
732-747-4646
www.newbeginningschiro.com
For an ongoing list of where we will be please go to our website in the "NYK News" section and look under "Our Seminars". We are continually adding new dates so check the website for the most recent schedule. If your group or organization is interested in our program please call 678-570-7750. Thank You.
Now You Know Products and Services
NYK started just over two years ago offering an email newsletter sent directly to patients. We now have grown to the largest supplier of Internet services to the profession. But that is not all we do. Review the list below to see the variety of products and services we offer.
Now You Know Web Site Design and Hosting: Our combination of features, updates, message quality and quantity of content has made Now You Know the largest provider of individual web sites to the chiropractic profession. Click on the thumbnail to to the right and see why our list of features makes us "simply the best!"

Now You Know Email Newsletter Service: Our newsletter is the most popular patient email newsletter in chiropractic. We estimate that each month over 50 thousand people read these each month. Current and hard-hitting articles on health and chiropractic issues delivered directly to the patients inbox has made our newsletter service unsurpassed in chiropractic. See why hundreds of offices love this service! Click on the thumbnail at left for more information.

Echiropractic: We push the technology window to the limit with online chiropractic pamphlets, cards and office letters for you to use. An entire year of unlimited usage for a very reasonable fee. See what everyone else is talking about by visiting www.echiropractic.net .

NYK Patient Lecture Presentation: Use hi-tech graphics and dazzling images to teach your patients about chiropractic and your office. Now You Know offers the most graphically impressive patient lecture available in chiropractic. Available in 35mm slides with an audio tape of the presentation.

NYK Full Spine X-ray Filtration System: Do you take full spine x-rays? Would you like to? Learn how to take full spine x-rays affordably and easily without split screens of 14 x 36 film. Visit www.nowyouknow.net to find out more.

NYK Custom Posters: Why buy generic posters when you can have your picture and your words displaying for your patients. Especially valuable for offices with front window exposure! Only $49.95 each. Visit www.nowyouknow.net to find out more.

NYK Free Stuff: On our web site, www.nowyouknow.net , you will find a link to this page containing free stuff and links to Free Stuff for chiropractors. Subscribe to free newsletters, get a free poster, send for a free CD-Rom, download free graphics, and find free resources. If you want it and it is free check us out.

Free Classifieds: Selling your practice, buying one? Looking for an associate, or to be an associate? Have a product or service to sell, program or seminar? Now You Know offers this free classified for the entire profession!