July 2001 Issue
If you have received this newsletter in error, or if you would like to not receive future issues please reply to this email and place the word "Remove" on the subject line.
In This Issue
NYK introduces second Flash opening for subscribers sites.
A Call to Action! Do you want Medicare to pay for your x-rays and exam?
Are you using an email alias?
Comic Relief: Is the computer really an advancement for man?
Where we gonna be?
Now You Know Products and Services
NYK introduces second Flash opening for subscribers sites.
Now You Know has introduced its second "Flash" opening movie for the entrance to subscriber sites. In what will be an ever growing list of choices, NYK web subscribers now have a second Flash opening to select for their web sites. This second mini-movie is named " The Subluxation" and simply but powerfully creates a mood about subluxation interfering with the "Innate Intelligence" of the body producing a state of "Dis-ease". The Flash movie starts by asking the question, "Where does health come from?" and ends by leaving the viewer with the message that, "Only Chiropractors Correct Subluxations."
This opening represents a strong philosophical message using images and music that instill a feeling of passion related to chiropractic. To view this new "Flash opening please go to our web site at www.nowyouknow.net and click on the "Our Services" button, then select "Website Service" from the menu. The first choice on that page will be a brief explanation of our Flash openings with a thumbnail that you can click on to view all our creations.
A Call to Action! Do you want Medicare to pay for your x-rays and exams?
A bill has been introduced in the US Congress that would require Medicare to pay for chiropractic examinations and x-rays. This is the first bill of its type that really has a chance because it would provide for consistent benefits in every state. Other past attempts that tried to link Medicare benefits with state laws were doomed because each state has different practice acts, a situation the medical profession does not have to deal with. If you deal with the Medicare beneficiaries we ask that you join in this valuable effort by helping to get your congressmen and senators on board as co-sponsors.
So what does this have to do with technology you ask? Well, we can use it to communicate faster and more effectively with our elected officials. The banner below is from the web site www.chiropractic.org from the ICA. Please take a moment and view the sample letters to your representatives. One sample letter is intended to come from you and one is from your patients. If you need to check to see who your representative may be, or who may represent your patients in various areas you can go to this link http://www.house.gov/writerep/ and simply put in your zip code to see who it is. To see a list of US Senators please click here, http://www.senate.gov/senators/senator_by_state.cfm .
H.R. 2284 OFFERS ONLY REALISTIC PROMISE OF MAJOR MEDICARE IMPROVEMENTS FOR CHIROPRACTIC PATIENTS

Click for more:

-- Model letters --
Please take a few minutes, copy each letter, make changes, and then email them to your Representative and Senator. You can also then email out this information to your patients so that they can do the same. Provide them with the links from this newsletter so they can easily help out. Using Internet technology to the fullest can actually help us win a huge victory for chiropractic and those we serve. Do not pass this one by, PLEASE get to work!
Are you using an email alias?
One of the advantages that comes with having your own website is the availability of an email alias. Right now most people are receiving their email through their Internet Service Provider such as AOL, Mindspring, or Bellsouth, to name a few. This results in an email address that always has the Internet Service Providerís name featured prominently in the email address, such as drsmith@aol.com or drjones@mindspring.com.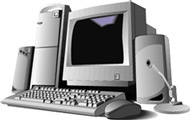 If you had a website with the name www.mychiropracticoffice.com it is possible to set up an email address like drsmith@mychiropracticoffice.com or drjones@mychiropracticoffice.com or even something like gethealthy@mychiropracticoffice.com.. The website then automatically and seamlessly forwards the email to the inbox at AOL or Mindspring or wherever you happen to receive your email. The concept is very similar to the way call forwarding from the phone company works.
The are two major advantages to having an email alias. The first is that when someone sees your email address you will be advertising your website rather than their Internet Service. The second is that when you change your Internet Service Provider, the email alias remains the same only the forwarding needs to be reset to forward the emails to the new email address. This ensures that your email address will always remain the same and eliminate those annoying Change of Address emails that we often receive.
Comic Relief: Is the computer really an advancement for man?
Where we gonna be?
Now You Know will be on the road quite a few times in the coming months. We hope to see as many of our readers at these events as possible. At several of these programs we will be teaching our "Internet Practice Seminar", on how to maximize this technology to teach and motivate your patients. The dates are listed below.
When
Who-Where
Contact

July 26 - 29, 2001
Booth

DE Meeting
Westin Harbour Castle Hotel
Toronto, ON
Life DE Meetings
www.lifede.com
August 8 - 12, 2001
Speaking & Booth
Palmer College Lyceum
Davenport Iowa

800-722-2586

Use this link

September 7-9, 2001
Booth
FCS Convention
Breakers Hotel Palm Beach
1-800-335-4897
www.fcschiro.com
September 20 - 23, 2001
Booth
Karl Parker Seminars
Dallas, Texas
Karl Parker Seminars
www.karlparker.com
September 28-30
Booth
Chiropractic Pediatric University
Chicago Illinois
Future Perfect Inc.
732-295-5437
www.chiropediatrics.com
October 4 - 7, 2001
Speaking & Booth
New Beginnings
Sheraton Hotel Eatontown,
New Jersey
New Beginnings
732-747-4646
www.newbeginningschiro.com
October 5 - 7, 2001
Speaking & Booth
Michigan Chiropractic Council
Novi Hilton
MCC
www.michiganchiropractic.org
October 25 - 28, 2001
Booth
Dynamic Essentials
Atlanta Renaissance Waverly Hotel
Dynamic Essentials
800-233-5409
www.lifede.com
November 2-4, 2001
Booth
FSCO Triune
Embassy Suites Charlotte, NC
FSCO
www.straightchiropractic.org
December 7-9, 2001
Booth Only
FCS Convention
Orlando Airport Hyatt
1-800-335-4897
www.fcschiro.com
Jan. 24-27, 2002
Booth
New Beginnings
Sheraton Hotel Eatontown,
New Jersey
New Beginnings
732-747-4646
www.newbeginningschiro.com
February 22-24, 2002
Booth
Arnold Classic & ICA Sport Fitness Symposium, Columbus, Ohio
ICA - 1-800-423-4690
www.chiropractic.org
April 25-28, 2002
Booth
New Beginnings
Sheraton Hotel Eatontown,
New Jersey
New Beginnings
732-747-4646
www.newbeginningschiro.com
For an ongoing list of where we will be please go to our website in the "NYK News" section and look under "Our Seminars". We are continually adding new dates so check the website for the most recent schedule. If your group or organization is interested in our program please call 678-570-7750. Thank You.
Now You Know Products and Services
NYK started just over two years ago offering an email newsletter sent directly to patients. We now have grown to the largest supplier of Internet services to the profession. But that is not all we do. Review the list below to see the variety of products and services we offer.
Now You Know Web Site Design and Hosting: Our combination of features, updates, message quality and quantity of content has made Now You Know the largest provider of individual web sites to the chiropractic profession. Click on the thumbnail to to the right and see why our list of features makes us "simply the best!"

Now You Know Email Newsletter Service: Our newsletter is the most popular patient email newsletter in chiropractic. We estimate that each month over 50 thousand people read these each month. Current and hard-hitting articles on health and chiropractic issues delivered directly to the patients inbox has made our newsletter service unsurpassed in chiropractic. See why hundreds of offices love this service! Click on the thumbnail at left for more inforamtion.

Echiropractic: We push the technology window to the limit with online chiropractic pamphlets, cards and office letters for you to use. An entire year of unlimited usage for a very reasonable fee. See what everyone else is talking about by visiting www.echiropractic.net .

NYK Patient Lecture Presentation: Use hi-tech graphics and dazzling images to teach your patients about chiropractic and your office. Now You Know offers the most graphically impressive patient lecture available in chiropractic. Available in 35mm slides with an audio tape of the presentation.

NYK Full Spine X-ray Filtration System: Do you take full spine x-rays? Would you like to? Learn how to take full spine x-rays affordably and easily without split screens of 14 x 36 film. Visit www.nowyouknow.net to find out more.

NYK Custom Posters: Why buy generic posters when you can have your picture and your words displaying for your patients. Especially valuable for offices with front window exposure! Only $49.95 each. Visit www.nowyouknow.net to find out more.

NYK Free Stuff: On our web site, www.nowyouknow.net , you will find a link to this page containing free stuff and links to Free Stuff for chiropractors. Subscribe to free newsletters, get a free poster, send for a free CD-Rom, download free graphics, and find free resources. If you want it and it is free check us out.

Free Classifieds: Selling your practice, buying one? Looking for an associate, or to be an associate? Have a product or service to sell, program or seminar? Now You Know offers this free classified for the entire profession!