May 2002 Issue
If you have received this newsletter in error, or if you would like to not receive future issues please reply to this email and place the word "Remove" on the subject line.
In This Issue
Chiropractic Emergency In Manitoba, A Call for Help
Chiropractic on Discovery Channel
Another One Bites The Dust
It Should be Illegal
Chiropractic Without A Doubt Huge Success
Now You Know Has New Mailing Address
Our Upcoming Schedule
Now You Know Products and Services
Chiropractic Emergency In Manitoba, A Call for Help
It has happened in Manitoba, it could happen where you practice next! Now is the time to mobilize! The Government of Manitoba has decided to eliminate chiropractic coverage for those 18 years old and under! That's right, in a system where health care is universal, chiropractic has been specifically singled out and coverage has been removed for children 18 years and under. This travesty must be met with a loud and resounding outcry.
Over the past year,
several forces in opposition to chiropractic have been waging a smear campaign in the press to try to suggest that chiropractic is dangerous. This propaganda campaign was designed to sway Canadian lawmakers to restrict payment for chiropractic services. Unfortunately children were the first target and have been entirely removed from payment in Manitoba.
This horrific event must be met with bold action. The ICA has taken the position that you must fight fire with fire. Since the original campaign was waged in the press, the response must be in the press. In an effort to win the war of public opinion the ICA has started a fund specifically earmarked to purchase media in Canada to tell the chiropractic side of the story and save the children. The ICA is asking all chiropractors of any affiliation to step up and contribute to this fund. This is truly an hour of crisis that demands strong and unified action.
ICA released a statement on this event and their action stating: In a special meeting on May 13, 2002 the ICA Board of Directors voted unanimously to extend assistance in every possible way to the Canadian chiropractic community as they defend the profession against grossly discriminatory new policies that would restrict access to chiropractic services by denying payment for persons 18 years of age or younger. The government of Manitoba has announced that this policy will go into effect in that province on July 1, 2002. ICA has written to the presidents of the Canadian Chiropractic Association and the Manitoba Chiropractors' Association noting how concerned the entire world of chiropractic is over these developments and assuring them that the combined resources of the global chiropractic community are available to assist them in this fight. ICA members from across Canada have asked ICA to assist in the campaign to defend chiropractic in that country. ICA's leadership understands that the issue of reversing the policy in Manitoba must come from the actions of the citizens of that province.
ICA's leaders also recognize, however, that the damage that has been done to chiropractic in the public mind from this policy announcement can only be reversed through an aggressive public information and education campaign. In this effort, ICA will coordinate a worldwide fundraising effort to ensure that the message is effectively communicated throughout Manitoba, Canada and anywhere in the world that chiropractic is attacked in such a vicious and prejudicial manner.
Anyone wishing to help in this cause can do so by donating to the fund. You can do this by calling ICA at 1-800-423-4690 or by donating directly on their web site at www.chiropractic.org. In addition to the donation of our internet resources, we at Now You Know will also be making a monetary contribution to this fund. Do not for a minute believe that this is only a problem in Manitoba, or Canada. This fight will be coming to your home soon. We must meet the challenge now before it spreads. Now is the time to stand up for chiropractic, now is the time to stand up for the children. Please contribute!
Please forward this important message on to every chiropractor on your email mailing list! We must act now!!!
Chiropractic on Discovery Health Channel
Over the next few weeks a one hour program will begin airing on the Discovery Health Channel that shows how chiropractic care is helping those in a Miami drug addiction program. The program will air on May 12, and will continue to be shown approximately 11 times up till September 6, 2002. The Discovery Health series is called "Lifeline" and the particular show that touts the benefits of chiropractic care in addictionology is called "Wiped Out".
The show's inclusion of chiropractic was triggered by an article that recently appeared in the prestigious scientific journal "Molecular Psychiatry". The original journal article reported on patients in a residential drug-addiction program who received chiropractic care designed to realign their vertebrae. What was remarkable was that these individuals completed the treatment program at an amazing 100 percent rate. Nationally only 72 percent of participants make it all the way through such programs.
The research, and the subsequent filming of the chiropractic portion of the program was done at Miami's Exodus drug-treatment program. This center is run by their medical director Dr. Jay Holder, who is a chiropractor. Times and dates of this show can be found on the Discovery Health website at http://health.discovery.com/ .
On the website there may be an error as the show listed as "Over Exposed" contains the explanation that mentions chiropractic. Dr. Holder explained that this is incorrect and that the chiropractic segment is actually not part of that show but rather is part of the show "Wiped Out". The explanation for the chiropractic segment is short and reads as follows. "A drug rehab program gets results with chiropractic treatment."
Another One Bites The Dust
As
if you can almost hear the words to the song from the group Queen, "Another one bites the dust!" This is in reference to a story that appears in the April 22 - 29, 2002 issue of the American Medical News. The article states the reason for the withdrawal as, "A precipitous drop in sales has caused the only manufacturer of Lyme vaccine to remove the preventive tool from the market.
"The article further explains in the heading, "Public perception of a vaccine's danger, even if wrong, can doom the vaccine and poses a broader threat to the nation's health."
Although many of us would disagree as to the reasoning with the last statement, it is interesting to note that a publication such as this is showing a crack in the armor of vaccinations. By stating in their publication that there is a "Public perception of a vaccine's danger..." sends a strong message that they are well aware of the public's growing tide of question and concerns on this issue.
As chiropractors we should see this as a huge step toward freedom of informed consent on this issue. Here is a vaccination that was not mandated by the government that was withdrawn from the market because of the public's lack of interest and general fear of the possible adverse outcomes. I wonder just how many other vaccinations would also fall be the wayside if they were not mandated by the government.
It Should be Illegal

Under the heading of, "Good job if you can get it," a story from the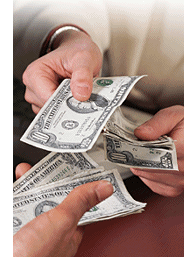 May, 6, 2002 issue of the American Medical News actually reports on a company that now sets schedules for MD's to be paid to hear sales pitches from drug sales people. This startup company is assembling a network of physicians willing to be paid to listen to sales pitches from pharmaceutical salespeople. What this company does is sign up MD's who are willing to be paid $50 bucks to hear a ten minute sales blurb on new drugs! The pharmaceutical company actually pays $105 for this privilege, but more than half goes to the company setting up the appointment.
What a deal, can you imaging getting paid 50 bucks every time someone wanted to sell you something? The article points out that the pharmaceutical industry employed 87,892 sales representatives in 2001, up 110% from 41,855 in 1996. The ratio is now up to 4.7 MDs for every drug sales person. Additionally the article points out that last year drug companies spent $13.2 billion in direct marketing to physicians. This represents five times the $2.5 billion spent in direct-to-consumer advertising, according to the Kaiser Family Foundation. This means the number of drug sales people has more than doubled in the last 5 years.
Among the medical establishment there is debate on the ethical considerations of this new business practice. (If chiropractors were doing this they would lock us up, throw away the key and feast in the media for months!) Some MDs say this practice is unethical, (Dah?) while some say it is educational. (Hey a little knowledge is a good thing for 50 smackers every 10 minutes, right?)
Chiropractic Without A Doubt Huge Success
Phase two of the ICA's "Chiropractic Without A Doubt" (CWAD) programs are getting rave reviews and large crowds. Over the past two weekends ICA's newly revised "CWAD" programs have been setting attendance records. Dr. Steve Hoffman and myself teach the second generation of these programs initially started by Drs. Patrick Gentempo and Christopher Kent. These new programs continue the same basic direction, with new updated material and a few interesting new twists. For those who have attended these in the past, consider returning again. You'll be glad you did. For a schedule of upcoming dates please visit the ICA website at www.chiropactic.org.
Additionally, another new and exciting program is just around the corner. "Marketing Without a Doubt" is a no-holds barred program designed to give you and your staff the tools you need to grow! Dr. Larry Duboff teaches you the ins and outs of public speaking from basics of how-to, to the secrets of filling up your calendar with speaking engagements. In my portion of the program we will cover the nuts and bolts of using internet technology to turn your patients into educated referring machines! We will also show you some of the most efficient and cost effective marketing technologies available. The initial dates for these programs are listed below in our calendar.
Now You Know Has New Mailing Address
Now You Know has a new mailing address. Please use this mailing address for all hard copy correspondence as well as pictures that you may be mailing for your website.
New General Mailing Address:
Now You Know Inc.
PO Box 2210
Marietta, GA 30061-2210
Our Upcoming Seminars and Shows
The list of programs and appearances we are attending continues to grow. Below is a list of the places we will be over the next few months with many more in the works. Of special mention are
When
Who-Where
Contact
May 16-18 2002
booth
Palmer West Lyceum
Palmer College West
www.palmerlyceum.com
May 23-25 2002
booth
Sherman Lyceum
Sherman College of Straight Chiropractic
www.sherman.edu
June 6, 2002
Speaking
Marketing Without A Doubt
FCS Convention
Hilton Downtown St. Petersburg

ICA 1-800-423-4690
www.chiropractic.org

1-800-335-4897
www.fcschiro.com
June 7-9, 2002
Speaking & Booth
FCS Convention
Hilton Downtown St. Petersburg
1-800-335-4897
www.fcschiro.com
July 13, 2002
Speaking
Philosophy on the Beach
Daytona Beach, FL
Dr. Danita Heagy
dth@drdanita.com
July 25-28, 2002
Booth
DE
Burlingame California
DE
www.lifede.com
August 3-4, 2002
Speaking

"Chiropractic Without a Doubt"
by ICA, Pittsburgh, PA

ICA 1-800-423-4690
www.chiropractic.org

Click here for flyer

August 8-11, 2002
Booth
Palmer Lyceum
Davenport
Palmer College
www.palmer.edu
August 17-18, 2002
Speaking

"Chiropractic Without a Doubt"
by ICA, Philadelphia, PA

ICA 1-800-423-4690
www.chiropractic.org

Click here for flyer

August 22, 2002
Speaking
Marketing Without A Doubt
FCS Convention
Palm Beach at "Breakers"

ICA 1-800-423-4690
www.chiropractic.org

1-800-335-4897
www.fcschiro.com
August 22-25, 2002
Speaking & Booth
FCS Convention
Palm Beach at "Breakers"
1-800-335-4897
www.fcschiro.com
September 21-22, 2002
Speaking

"Chiropractic Without a Doubt"
by ICA, Cincinnati Ohio

ICA 1-800-423-4690
www.chiropractic.org

Click here for flyer

September 26-29, 2002
Booth
New Beginnings
Sheraton Hotel Eatontown,
New Jersey
New Beginnings
732-747-4646
www.newbeginningschiro.com
November 2-3, 2002
Speaking

"Chiropractic Without a Doubt"
by ICA, Richmond, VA

ICA 1-800-423-4690
www.chiropractic.org

Click here for flyer

November15-16, 2002
Speaking & Booth
New York Council Convention
New York City
1-718-386-3988
www.nycouncil.org
click here for flyer & reg. form
November22-23, 2002
Booth
ICA Pediatric Convention
New Orleans, LA

ICA 1-800-423-4690
www.chiropractic.org

December 6-8, 2002
Speaking & Booth
FCS Convention
Orlando Airport Hyatt
1-800-335-4897
www.fcschiro.com
Now You Know Services and Products
Now You Know Web Site Design and Hosting: Our combination of features, updates, message quality and quantity of content has made Now You Know the largest provider of individual web sites to the chiropractic profession.

Now You Know Email Newsletter Service: Our newsletter is the most popular patient email newsletter in chiropractic. We estimate that each month over 100 thousand people read these each month. Current and hard-hitting articles on health and chiropractic issues delivered directly to your patient's inbox has made our newsletter service unsurpassed in chiropractic. See why hundreds of offices love this service!

Echiropractic: We push the technology window to the limit with online chiropractic pamphlets, cards and office letters for you to use. An entire year of unlimited usage for a very reasonable fee. See what everyone else is talking about by visiting www.nowyouknow.net .

NYK Patient Lecture Presentation: Use hi-tech graphics and dazzling images to teach your patients about chiropractic and your office. Now You Know offers the most graphically impressive patient lecture available in chiropractic. Available in 35mm slides with an audio tape of the presentation.

FREE Online Classifieds: Looking to sell or buy a practice? Are you looking to be an associate? These and many more are available through a joint classifieds posted from Now You Know and Planet Chiropractic. Just go to our website and look under "Free stuff".