Technology for a new millennium for anyone interested in spreading the chiropractic message.
March 2000
We encourage you to forward this newsletter to other chiropractic colleagues.
Please visit our Web site at www.nowyouknow.net
Our email address infoage@nowyouknow.net
In this issue:
Patient Confidentiality and Emailing.

Sending Emails to Multiple Patients Becoming More Difficult.

New Web Features Go Online!

What's the hottest?

So you think you're technically challenged?

Now You Know Update.
Patient Confidentiality and Emailing.
As most of us know patient confidentiality is a basic requirement in our practices. Patients have the basic right not to have their care, or even the fact that they get care disseminated in areas they have not approved. This extends to our use of the Internet when we email patients.
Very often I receive copies of emails sent by doctors to their patients about some announcement in their office. My email address seems to have found its way onto quite a few doctor lists. And while this is not a problem, I do often see that the email being sent to their patients was either sent or copied to the entire patient list. This means that I can read the email address of everyone who is getting that email. In many cases I can even see their names. This is an inadvertent breach of doctor - patient confidentiality. In this scenario you have given every patient on that email the name and or email address of every other patient. With this information anyone can use the web to find addresses, phone numbers and even a detailed map to that patient's home. I'm not sure this is something your patients would be happy about.
The solution is simple, it is called a "blind copy" or "BCC". This means that you send the email to only one address (preferably yourself) but you send a "blind copy" to everyone else you wish to receive that email. This prevents anyone from reading everyone else's name or email address. You can usually see the "Bcc" option below the "To" and "Cc" entry fields. If you don't see an option for Bcc, it doesn't mean you don't have one it just means you have it hidden. Most times you can make it visible by changing settings in your "View" menu or somewhere in your "Options" menu depending on what email program you are using.
Following these simple steps when sending email to more that one patient can save you embarrassment and possible legal or regulatory problems.
Sending Emails to Multiple Patients Becoming More Difficult.
Assuming you're using the proper procedures to protect confidentiality when sending emails to groups of patients, you may still have one problem when sending a single email to a large group of your patients. Recently many Internet Service Providers, (ISP), are limiting the number of recipients that can be placed on one email. This includes sending emails with many names as "Cc and Bcc". When this happens you may find that the email you prepared to send to 50 of your patients will not go out.
If you have this problem there are two solutions. The first is to purchase and use a bulk email program that sends email out one at a time. This is usually not a solution for anyone but a commercial user, and requires a fair amount of computer savvy. The second solution is simply reduce the number of people you try to send out the email to. The magic number that seems to allow you to send emails is 25. With this method you may have to send out multiple emails if you want to send an email out to more than 25 people. The obvious down side of this approach is the amount of work required to send out repeat emails if your email list is large. It is for this reason that we at Now You Know use special customized programs to send out our newsletter individually to each recipient.
New Web Features Go Online!
We at Now You Know have added new web features to all our subscribers' web sites. These new features include a detailed and graphic explanation page of subluxation with the vertebral subluxation complex component model. In addition, we have also added a detailed and graphic description of subluxation degeneration that explains the process of subluxation degeneration with pictures of x-rays in the various phases.
Probably the feature we are most proud of is the addition of an interactive nerve chart. Most chiropractors at one time or another have used a chart or paper version of the "Meric, or Nerve Chart, or Suffering Needlessly Chart". Now this information is available inside our subscriber's web sites. These pages include a color chart of the spinal areas with a rotating spine.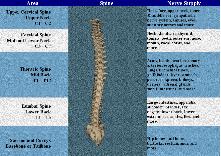 When the visitor clicks on various areas of the spine they open pages that briefly explain, with pictures, about that area of the spine, the neurology, and possible effects from nerve interference caused by subluxations in those areas. This feature is both visually stunning and very educational.
What's the Hottest?
Well if you want Internet statistics I recommend a site called "Nielsen Net Rating" the address is: http://www.nielsen-netratings.com . They provide a daily update on the web as well as who is looking at it. Here is a sample of what they recently had for stats.
Daily Stats for March 12, 2000. - 25.2 million total unique audience, 26 minutes average time spent per person, 3 sites visited per person, 10.8 million hours online total home Internet usage for the U.S. So what's the hottest? According to Nielsen, the top news and information site was not nowyouknow, (Shucks, but no surprise) it was www.weather.com .
So you think you're technically challenged?
Take heart, anyone among you who believes you are technologically challenged, you "ain't seen nuthin' yet". This is an excerpt from a Wall Street Journal article:
1. Compaq is considering changing the command "Press Any Key" to Press Return Key" because of the flood of calls asking where the "Any" key is.
2. AST technical support had a caller complaining that her mouse was hard to control with the dust cover on. The cover turned out to be the plastic bag the mouse was packaged in.
3. A Dell technician advised his customer to put his troubled floppy back in the drive and close the door. The customer asked the tech to hold on and was heard putting the phone down, getting up and crossing the room to close the door.
4. Another Dell customer called to say he couldn't get his computer to fax anything. After 40 minutes of troubleshooting, the technician discovered the man was trying to fax a piece of paper by holding it in front of the monitor screen and hitting the "send" key.
5. Yet another Dell customer called to complain that his keyboard no longer worked. He had cleaned it by filling up his tub with soap and water and soaking the keyboard for a day, then removing all the keys and washing them individually.
6. A confused caller to IBM was having troubles printing documents. He told the technician that the computer had said it "couldn't find printer." The user had also tried turning the computer screen to
face the printer but that his computer still couldn't "see" the printer.
7. An exasperated caller to Dell Computer Tech Support couldn't get her new Dell Computer to turn on. After ensuring the computer was plugged in, the technician asked her what happened when she pushed the power button. Her response, "I pushed and pushed on this foot pedal and nothing happens." The "foot pedal" turned out to be the computer's mouse.
8. A woman called the Canon help desk with a problem with her printer. The tech asked her if she was running it under "Windows." The woman responded, "No, my desk is next to the door. But that is a good point. The man sitting in the cubicle next to me is under a window and his printer is working fine."
9. Tech Support: "O.K. Bob, let's press the control and escape keys at the same time. That brings up a task list in the middle of the screen. Now type the letter "P" to bring up the Program Manager." Customer: "I don't have a 'P'." Tech: "On your keyboard, Bob." Customer: "What do you mean?" Tech: "'P' on your keyboard, Bob." Customer: "I'm not going to do that!"
Now You Know Update.
Now You Know on the road. The "Internet Practice Seminar" is becoming more and more popular. Look for us at "New Beginnings" Thurs - Sunday April 13-16, 2000 (Speaking Thursday evening) Sheraton Hotel Eatontown, New Jersey for information call 732-747-4646, or check their web site at: www.newbeginningschiro.com . On Friday, Saturday and Sunday Mar. 31 - April 1-2, 2000 we will also be at the ICAC (916-362-8816) convention in Costa Mesa at the Doubletree Hotel. Please check our web site for all our upcoming dates and seminars.
Our numbers continue to grow! This month we sent out a record number of emails via our newsletter service. Even more impressive was the overwhelming responses received by us and our doctors from this issue. In most cases the patients responded that they had forwarded the newsletter on to someone else. This means the Now You Know doctors are getting a double bang for the buck! Literally tens of thousands of non-chiropractic patients are receiving the Now You Know Newsletter from another patient! These are electronic referrals using the Internet!
Free month for our "Tell a Friend" Program: Now You Know is now offering a Free month of service to any of our subscribers who refers a friend who subscribes to our services. This is a special Thank You for all those who are spreading the chiropractic message using our services. Many of our doctors on our rapidly growing list of subscribers are telling other about our services. To reward them, we will be giving them a free month of whatever services they subscribe to for that referral.
To find out more about the Now You Know services, please visit our Web site at: www.nowyouknow.net
Now You Know has even created a free CD-ROM that explains some of the NYK services.
For a free CD-ROM or any other information, please contact us at:
email nowyouknow@nowyouknow.net ,
call us at 678-570-7750
Now You Know at 3450 Velma Drive, Powder Springs, GA, 30127,
Please forward this newsletter to another chiropractic colleague.