|
August 2001 Issue
In this issue:
Chiropractic Represented at Anti-Aging Health Conference
US Taxpayers Subsidize Wealthy Drug Companies
Tour de France Cyclist Depends on Chiropractic
Older Americans Visiting Doctors More Often
Scoliosis and Curvatures
Cow's Milk May Cause Type 1 Diabetes in Infants
Chiropractic Represented at Anti-Aging Health Conference
Chiropractic was represented at the world's largest "anti-aging" conference in
Chicago July 13-15, 2001. At this conference four chiropractic presenters provided important data and insights on the role of chiropractic in the care of older patients. The American Academy of Anti-Aging Medicine (A4M) who sponsored the conference, is recognized as the society which has changed the way the world thinks about human aging. Due to the rising demand for new ideas in anti-aging health, the program spanned three days and featured three distinct learning tracks, including the chiropractic educational sessions.
Chiropractic offers two wonderful benefits for the elderly. First chiropractic aids in mobility allowing the elderly to enjoy a more mobile life. Secondly, chiropractic offers more vitality and overall health. By removing nerve interference from subluxations the entire body functions better and responds to the changes of aging in a more positive manner.
Dr. D.D. Humber, ICA President said, "This inter-disciplinary professional conference represents an important frontier for chiropractic because only chiropractic offers a truly drug-free approach to health. In a segment of the population awash with prescription drugs, and where one-half of all emergency room presentations by Medicare beneficiaries are related to those prescription drugs, chiropractic awareness becomes an urgent matter of public health. This event provided the Chiropractic Profession with an opportunity to educate consumers and other professionals alike on the value of chiropractic as a health care discipline that encourages wellness practices with their patients."
"The growing numbers of older people in the population present increasing challenges as well as opportunities for health care approaches that combat aging and infirmity by utilizing the natural resources of the body itself," said Dr. Coralee Van Egmond, Chiropractor and the coordinator of the A4M program. "Chiropractic is the only health care discipline that addresses the inherent recuperative healing power of the body, and is a natural and integral partner with other health care disciplines in society's efforts to combat aging."
US Taxpayers Subsidize Wealthy Drug Companies
Drug companies are some of the wealthiest and profitable companies in the world. Yet these multi-billion dollar corporations use taxpayer money to develop more products to sell and increase their profits. A story from the July 24,2001 Associated Press exposes the fact that some of the richest companies in the world receive large amounts of taxpayer money.
According to the Associated Press story, more than
half the money needed to create top-selling prescription drugs came from U.S. taxpayers and not industry investment. Best sellers like the ulcer-curing Zantac or Zovirax, which treats herpes simplex, were developed and tested chiefly through grants from the National Institutes of Health. The study was performed by the National Institutes of Health and showed that out of 131 studies, clinical trials and other tests on five best sellers from 1995, only one industry study was key to a drug's development for use and sale.
The drug companies claim to need this money and large product markups for research to develop new drugs. Yet according to a report by the Families USA, a consumer group based in Washington, DC. and reported in Reuters Health July 10, 2001, drug firms spent more than twice as much last year on advertising, marketing and administration as they did on research and development. The report, based on companies' financial disclosures to the Securities and Exchange Commission, also points out that a number of the largest drug makers continue to lavish their top executives with compensation packages worth tens of millions of dollars per year.
According to the report by Families USA, Pfizer last year spent 39% of its nearly $30 billion in revenue on advertising, marketing, and administration. Only fifteen percent of revenue went to new drug development, while 13% went to profits. The company paid Chairman William C. Steere over $40 million in salary, bonuses, stock options and other compensation in 2000, the report states.
"The drug industry is stealing from us twice," said Frank Clemente, director of Public Citizens Congress Watch. "First it claims that it needs huge profits to develop new drugs, even while drug companies get hefty taxpayer subsidies. Second, the companies gouge taxpayers while spending millions from their profits to buy access to lawmakers and defeat pro-consumer prescription drug legislation."
Tour de France Champion Depends on Chiropractic
Lance Armstrong is the first American to win the Tour de France
three years in row. One of the methods he uses to keep in peak performance is chiropractic care. The chiropractor he uses to help him is Dr. Jeff Spencer. Dr. Jeff Spencer is no stranger to the sport. He is a former champion cyclist who competed on the 1972 United States Olympic Team as a sprint cyclist and he serves as chiropractor for the United States Postal Service Professional Cycling Team.
According to Dr. Spencer, "My job with Lance and the team is to optimize the neuromusculoskeletal component of their training and, in the event of a crash, minimize down time and get them back in the race as quickly as possible. I adjust them as needed and guide them in choices of diet and supplements, which helps reduce the likelihood of injury."
Chiropractic helps athletes perform better by removing interference to their nervous system known as subluxations. When the nerve system is free of interference the athlete can perform better. In a study conducted by the New Zealand School of Chiropractic, University of Auckland, New Zealand reaction times were improved and shortened in volunteer subjects that received chiropractic care over those that did not. The group that received the chiropractic adjustment showed a decrease in reaction time of 97 milli-seconds representing a 14.8 percent quicker reaction time. Considering these findings is it any wonder why Lance Armstrong and thousands of other athletes use chiropractic care to obtain their peak performance?
Older Americans Visiting Doctors More Often
A study from the Centers for Disease Control and Prevention
(CDC) published in Reuters Health July 17, 2001, reported that older Americans are visiting their doctors 22% more often than they did in the mid-1980s, and doctors are prescribing more drugs. According to the CDC's survey of physicians, office visits increased 19% between 1985 and 1999. Americans aged 65 and older increased their rate of doctor visits to about six times per year.
Dr. Jeffrey P. Koplan, director of the CDC, stated, "The aging of our population has had a major impact on ambulatory medical care in this country. As the oldest patients make up a larger proportion of the patients seen in a doctor's office, the doctor must be prepared to meet their unique needs, including monitoring multiple prescriptions and providing the best advice for promoting a healthy life and preventing disease and disability."
Unfortunately, elderly patients are more likely to be heavily medicated than the rest of the population. According to Medscape Pharmacotherapy, 2000, there are an alarming number of cases of elderly overmedication, which can often lead to delirium and dementia. It is estimated that medications contribute to 22% to 39% of all cases of delirium. A recent study involving older hospitalized adults found that the most likely primary cause of delirium in their study population was medication use.
Scoliosis and Curvatures
Before the age of 10, young children seldom complain of a backache.
When they do, it's usually for a day or so, and then the problem is not mentioned again. Often times, a vertebra can remain out of alignment (subluxated) and the child's pliable spine adapts to the situation. "As a tree is bent, so shall it grow!" is an old adage that can certainly be applied to the spine. Spinal misalignments in a young spine can develop curvatures which create spinal problems in adult life. A curvature is an abnormal spinal contour. Scoliosis is a type of curvature that has an abnormal side to side bend.
The process of scoliosis development goes as follows:
First,
the spine does not develop its normal front to back arches, and this causes unusual weight to be carried on the spinal discs.
Second, the center of certain discs shifts to one side, and the vertebra tip to the other side, just like a teeter totter. This misalignment, called a subluxation, causes the spine to tip to one side. To compensate for this bend, the spine then tips to the other side at another level and the result is scoliosis.
Chiropractic care has often proven to be the most effective means of curvature control and correction.
Dr. Fred H. Barge, in his book "Scoliosis" states, "From the time children are very young, the swingy swing, play pens and walkers, are encouraging children to walk too soon. Exercises in school such as sit-ups, and bending over touching the toes are destructive to the proper development of normal spinal contours. The enforced sitting in school all day also contributes to improper development of normal spinal curves. All of these things can lead to the development of curvatures and scoliosis. If the problem is detected early in a young child, it can often be straightened. Regular chiropractic examination, especially after a severe fall or sports activity, can detect spinal subluxations. Chiropractic spinal adjustment can correct these misalignments and return the spine to its proper position."
There certainly can be other causes of curvature. Hereditary development, a short leg, pelvic (hip) distortions, certain diseases, all can contribute to curvature development; but early detection and chiropractic care may prevent further curvature. Surgery and bracing are rarely sometimes necessary, but control and reduction through chiropractic care should be a primary consideration in all cases of scoliosis.
Cow's Milk May Cause Type 1 Diabetes in Infants
Web MD July 23, 2001, reports on the link between infants who drank cows milk and type 1 diabetes. Finnish researcher Hans K. Akerblom, MD, at the annual meeting of the American Diabetes Association in Philadelphia reported findings from a new study of more than 200 newborns at-risk for type 1 diabetes that suggested that feeding an infant formula made with cow's milk may up their chances of developing the disease.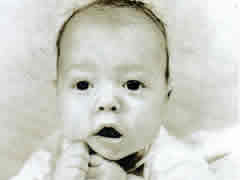 The study checked infants after breastfeeding. The babies were fed a formula made either with or without cow's milk. Those fed the formula made without cow's milk were about 50% less likely to develop proteins that are associated with type 1 diabetes. Thus, Akerblom postulates, cow's milk may cause diabetes in genetically at-risk kids. Other studies have already found that infants fed cow's milk are no more likely to develop the disease than infants who are breastfed.
Other studies show that breastfed babies may have higher IQs and stronger immune systems than babies fed with formula. Additional previous research also suggests that breastfeeding during a baby's first year may help lower the risk of gastrointestinal, or GI, tract infections, which affect the stomach and intestines, and atopic eczema, a common skin condition that affects around 10% of all infants and children.
In a timely coincidence the 11th annual World Breastfeeding Week will be celebrated from August 1-7, 2001, in countries throughout the world to increase public awareness of the importance of breastfeeding. This annual event is sponsored by La Leche League International (LLLI) and the World Alliance for Breastfeeding Action (WABA).
More information on this event can be found on their web sites at:
La Leche League International at http://lalecheleague.org/Release/WBW01.html
World Alliance for Breastfeeding Action at http://www.waba.org.br/wbw97/wbw2001.htm
We all know someone who could benefit from knowing about chiropractic and health. We ask you to please forward this email newsletter onto those people who you feel could benefit from it.. Please let us know when you forward this copy and also what you think of this issue by sending us an email at the address we have listed above. Do not hit the reply button as we mail these using a different mailing address. If you feel you received this newsletter in error please email us and let us know. Thank you.