|
December 2001 Holiday Edition
In this issue:
Holiday Stress and Winter Activities Carry Special Concerns
Should Doctors Do Away With Delivery Dates?
Chiropractic Technique Helps Turn Breech Babies During Pregnancy
New Warning Labels Proposed for Over the Counter and Prescription Drugs
MDs opposing Access to Chiropractic care by Veterans and Military
Hospitals May Start Getting Report Cards
Holiday Stress and Winter Activities Carry Special Concerns
In December 2001 informational releases from both the International Chiropractors Association (ICA), and the American Chiropractic Association (ACA), comes articles with tips for consumers this holiday season. The ACA warns, "Winter recreational activities and chores can pose problems for the outdoor enthusiast whose body is not in condition." The ACA article stresses the importance of warm-ups prior to winter activities or sports. "Simply put, warming up is essential," says Olympic speed skater Derek Parra, gold medal winner in the 1500 meters at last weekend's World Cup event in the Netherlands. "In fact, when pressed for time, it's better to shorten the length of your workout and keep a good warm-up than to skip the warm-up and dive right into the workout."
The article from the ICA starts by saying, "With Thanksgiving 2001 behind us and the holiday season in full swing,
it is important to your good health to take a few simple steps to reduce the stress and strain of this busy time. This is especially important in light of the added anxiety we are all feeling as a result of the September 11th tragedies." The article also stresses the importance of good spinal health by adding, "Lift packages, firewood, your frozen holiday turkey and other heavy items with your legs, not your back. When lifting, hold objects close to your body; rather than flexing forward, maintain a slight arch in your lower back and bend at the knees before standing up with the object. That way, the lifting is done primarily with the strong muscles of the legs supporting the load. Don't wait until you are hurting to see your doctor of chiropractic. Chiropractic adjustments can keep you going at your peak and help you get extra enjoyment from the holiday season."
The most important things over the holidays are family and good health. Chiropractic has been doing its part for over 100 years to help ensure the good health of families. We do this by working to keep the nervous system free of interference from subluxations. If your nervous system functions free from interference, your entire body works better. Basically, this means that your holidays are much better without subluxations. So keep well adjusted over the holidays.
Should Doctors Do Away With Delivery Dates?
In two stories reported by the November 20, 2001 Reuters Health service and the December 2, 2001 ABC News Service the basic question is asked, "With only 5 percent of babies arriving on time, should doctors do away with the due date"? These stories reported on an article that appeared in the December's Journal of Obstetrics and Gynecology. In that journal the author, Dr. Vern Katz, of the Center for Genetics and Maternal Fetal Medicine in Oregon, says that 95 percent of women deliver outside of their due date. He therefore argues for the removal of the term and concept of a "due date."
In his article Dr. Katz maintains that the concept of a due date is erroneous. He says it only leads expecting parents to feel frustration and anxiety about the health of their baby if the mother doesn't deliver "on time." He further says the calculations used by practitioners to set the date are flawed. "Predicting a due date based on the woman's last menstrual period is simply not accurate", he says. "How often does conception occur exactly 14 days to the minute after the last menstrual period?"
Dr. Benjamin Sachs, a Harvard professor and chairman of the department of obstetrics and gynecology at Beth Israel Deaconess Medical Center in Boston prefers a different approach to predicting deliveries, "An assigned week of delivery may allow women to be calmer", he insists. Sachs also noted that rates of inducing labor in the United Sates have "skyrocketed because of the due date issue." Going to a "week of delivery" may even do more good than just calming nerves, says Sachs. "It may allow biology to take its course a bit more."
Chiropractic Technique Helps Turn Breech Babies During Pregnancy
A November 7, 2001 report on a study conducted by the International Chiropractic Pediatric Association showed that a chiropractic technique known as the "Webster Breech Turning
Technique" was statistically very successful in resolving breech pregnancies without medical procedures. A Breech pregnancy is when the baby is not properly positioned in the mother's womb near the date for delivery. If the baby is not positioned head-first, the delivery may be difficult or even dangerous for both the mother and child.
This chiropractic technique was created by the late Dr. Larry Webster, who was affectionately known as "The grandfather of chiropractic pediatrics." The study entailed surveying members of the International Chiropractic Pediatric Association, Inc (ICPA - www.4icpa.org ) throughout the United States and Canada. The survey noted that there were a reported 112 cases of breech recorded by the chiropractors. Of these, the results were 102 positive resolutions. This means that in 102 of 112 cases the baby turned properly after the chiropractic procedure was performed. This represents a success rate of almost 92%!
The conclusions of this study clearly stated, "When successful, the Webster Technique avoids the costs and/or risks of either, ECV, cesarean section or vaginal trial of breech. In view of these findings the Webster Technique deserves serious consideration in the health care management of expectant mothers exhibiting adverse fetal presentation."
New Warning Labels Proposed for Over the Counter and Prescription Drugs
The Dec. 3, 2001 issue of the American Medical News reported that the US Food and Drug Administration may change warning labels and increase patient education because of fatal vehicle crashes linked to legal medications. The new label requirements would address possible sedation or impairment caused by over-the-counter and prescription drugs.
This possible action is in response to a request by the National Transportation Safety Board, which has recorded thousands of car, bus, boat and airplane accidents resulting in at least 100 deaths linked to legal medications such as antihistamines, muscle relaxants, painkillers, anti-anxiety drugs and anti-depressants. The article noted that several European countries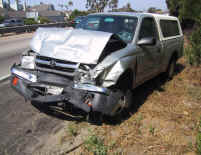 already mark packages with color-coded symbols that indicate the degree to which a drug may induce drowsiness or may otherwise impair a person's ability to drive a car.
John Weiler, MD, professor of internal medicine with the University of Iowa, said, "We need more investigation to understand the degree of impairment we see with them and understand what's really happening when people take these medications."
ICA President Dr. D.D. Humber applauded this safety initiative in a letter to USDOT Secretary, Norman Y. Mineta, and offered the support of the International Chiropractors Association behind this important research and warning proposal. "The United States is awash in a sea of medications, with consumers bombarded by wave after wave of advertising on the part of the drug industry, selling every possible form of medication for every possible condition, with little attention paid to the risks and dangers inherent in their use," Dr. Humber told Secretary Mineta. "The chiropractic profession and the International Chiropractors Association believe that it should be a top public health priority to investigate and fully understand the risks that accompany the common use of potentially dangerous medications and issue clear warnings to consumers of those risks."
MDs opposing Access to Chiropractic care by Veterans and Military
Organized Medicine continues to show its prejudice against chiropractic in a Nov. 26, 2001 article from the American Medical
News. This article starts off by saying, "Chiropractors seek primary care status at Veterans Affairs Dept. A House bill would name chiropractors as primary care providers in the VA health system. But opposition may lead to a study." The article refers to a bill passed by the US Congress and presently in the US Senate that would make chiropractic care available to all US veterans and service people.
The article states that the American Academy of Family Physicians has even started a letter writing campaign to the US Congress in opposition to the proposed law. Additionally, groups officially opposing the chiropractic provisions of the bill include the AMA, the American Osteopathic Assn. and the American Assn. of Colleges of Osteopathic Medicine.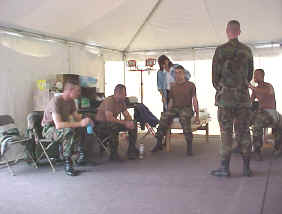 Dr. Jerome McAndrews, a chiropractic spokesman, said the VA's policy does not give veterans sufficient access to chiropractic. "Because of the illegal boycott by physicians, it has been proven that for chiropractors to be welcomed or accepted there needs to be legislation requiring it because the resistance is all through the system. We need direct access."
The argument continues as the medical groups do not want the veterans and service people to have direct access to chiropractic care without first going to a medical doctor. Most chiropractors realize that this would mean that patients would be denied the benefits chiropractic care has given to millions of Americans.
The medical opinions stated in this article are in stark contrast to the overwhelming support of military and government personnel who received chiropractic care at the Pentagon after the September 11 attacks. At a facility called "Camp Freedom" hundreds of military and rescue workers lined up for chiropractic care each day to be adjusted. In the face of this type of response, arguments against allowing open access to chiropractic sound simply like turf wars.
Hospitals May Start Getting Report Cards
A story from the December 2, 2001 Associated Press reported that the University of Oregon has begun an experiment involving "report cards"
on hospital performance. The article starts off by saying, "Consumers have better information about buying cars or dishwashers than they do about hospitals that are best able to heal their ailments, health care critics say."
University of Oregon health care expert Judith Hibbard said, "We know that 98,000 people die every year in American hospitals as a result of medical errors." Hibbard goes on to say, "Most people assume the technical level of care at any hospital is high and so quality is more like customer satisfaction. But that's not true. Technical quality varies a great deal."
The study is being done in conjunction with a report card system being done in Wisconsin hospitals and compiled by the Employer Health Care Cooperative Alliance. The organization rated 24 hospitals in the Madison Wisconsin area on surgical and non-surgical care, assigning grades of above average, average, or below average for the level of mistakes, complications and deaths.
There are detractors to the idea. Dr. Lucian Leape of the Harvard School of Public Health, co-author of a groundbreaking Institute of Medicine national report in 1999 on hospital death rates that exposed devastating death rates due to medical mistakes, said he fears the report card could discourage improvements or mislead consumers. "It's a variant of the shaming approach to child behavior. And I just think shaming is a bad idea. It's not a good idea for school children and it's not a good idea for hospitals either."
There is no greater gift you can give for the holidays then the gift of health. We therefore ask that you please forward this email newsletter onto anyone you feel could benefit from it. Also please let us know what you think of this issue by sending us an email to the address we have listed above. Do not hit the reply button as we email these using a different mailing address. If you feel you have received this newsletter in error please email us and we will remove you from our list. Thank you.