October 2001 Issue
If you have received this newsletter in error, or if you would like to not receive future issues please reply to this email and place the word "Remove" on the subject line.
In This Issue
A Story Worth Telling to Your Patients
NYK Introduces Four New Templates
Would Your New Patients Like to Save 20 Minutes on Their First Visit?
Our Upcoming Schedule
Partners in Patient Education
Now You Know Products and Services
A Story Worth Telling to Your Patients
The tragedy of September 11, 2001 brought out the best in many people. We found new heroes in those whom we may have taken for granted before. Chiropractors in both New York City and Washington also came to the aid of others by adjusting thousands of rescue workers at both sites. Most of us have seen pictures and read stories of these efforts, and have felt a sense of pride toward our profession and country. We wished we could do more, but were at least glad that there were those in our profession who were there to help.
Our patients need to read about this as well. Our patients need to know the commitment and dedication of our fellow chiropractors in helping at these sites. They also need to know that chiropractic had a positive impact, and made a huge difference for those rescue workers who were at these tragedy sites. We need to let our patients know that chiropractic did help and make a difference!
Last month the lead story for the Now You Know patient subscription email newsletter was a story on these events. More than ever before the positive feedback was overwhelming. Because of this we felt an obligation to release this story for everyone to copy and send to their patients. We therefore present below the original story as it appeared in our newsletter that was sent to tens of thousands of subscriber's patients. We invite all of you to copy this portion and email it out to your patient list, or reprint copies and place them in your office. Some stories are just to important to keep bottled up.
Chiropractors Help in Time of Tragedy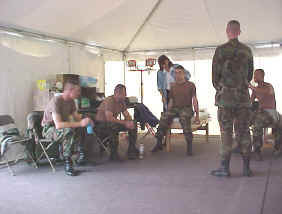 The events of September 11th 2001 have affected and changed us all in some way forever. Most of us were shocked and horrified at how such a thing could occur. For many our next feeling was probably anger and a desire to strike back. Then came an overwhelming desire to help in some way.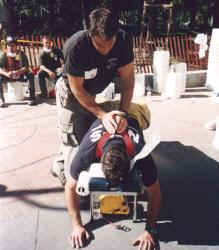 In watching the news we noticed that people from all over the world showed support and reached out for those most affected. As chiropractors many in our profession wanted to help in the best way we knew how. It was this desire to do something and help that lead to an amazing outreach by chiropractors in both New York and in Washington.
At both the site of the World Trade Center and at the Pentagon in Washington DC chiropractors set up help stations to adjust the firefighters, police and rescue workers who were on site at ground zero. At these locations chiropractors provided round the clock chiropractic care free of charge to all who requested it. Thousands of relief workers responded as each station was continually busy with help being provided to those who were themselves helping.
In Washington at the US Pentagon, the International Chiropractors Association was asked to provide chiropractic services to Pentagon rescue and security personnel. Immediately chiropractors started working in three shifts to provide assistance.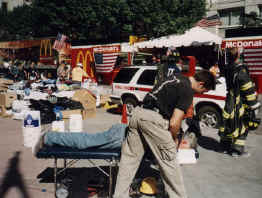 To assist the rescue workers at the Pentagon, "Camp Unity" was set up using an extensive tent space provided by the Public Safety (police, fire and rescue) chaplains of greater Washington. In Camp Unity more than two dozen chiropractors were working in long shifts to adjust all who need chiropractic care at the site. "Our patients include military personnel of all ranks and from all services, law enforcement, fire and rescue units on duty and other volunteers working with the Red Cross and Salvation Army," said Dr. Coralee Van Egmond a local chiropractor. "The response has been tremendous and reflects the vital need for the unique services doctors of chiropractic provide. In sometimes harsh conditions, our chiropractors have given care to as many as 300 people a day, and have worked ten and twelve hour shifts that last long into the night and early morning hours."
One of the chiropractors giving his time at the New York site, Dr. Robert Davis, summed up his experience by saying. "One of the firemen I adjusted told me the best thing anyone can do to help all the rescue workers is to just support them and...Pray for them."
To read more stories of chiropractors involved in helping the rescue workers please visit, http://www.wcanews.com/archives/2001/oct/oct0101a.htm and http://www.chiropractic.org/news/disaster_relief.htm.
Now You Know Introduces Four New Web Themes
In an effort to continue to improve our service we now have four new themes available to choose from. The four are, the Avante, the Imperial, the Emerald, and the Ruby. All four feature a new look "spinal index" with a faded picture in the background of the index column. They also feature a scrolling headline and have an easy navigation system.
This brings the total number of choices for web site themes we have available for our subscriber to 22! From there we can still customize a web site to meet your specific needs, all at NO additional charge. To view a fully functional sample of these latest creations, along with any of the other websites we offer, please visit our site at www.nowyouknow.net and click on "Website Service".
Would Your New Patients Like to Save 20 Minutes on Their First Visit?
I'm sure they would. One of the biggest wastes of time on a first visit with a new patient is filling out the new patient forms. At Now You Know we have a solution to this problem.
The solution is to put your new patient forms online on your web site. This way when a new patient calls up on the phone to make an appointment, your staff simply asks them if they have internet access. When they say yes, they are directed to your site and asked to download and print out your new patient forms. They are then told to fill them out at home and bring them in completed. They are also told that doing this will save them about 20 minutes in your office.
Needless to say most new patients are thrilled at the prospect of not having to fill out forms while sitting in your office. And think of how much more you will impress them when they get to see the doctor just minutes after entering your office. Having done this in my office for almost a year, I can also tell you that the benefits in scheduling are great. Additionally, most patients do a much better job filling out the forms more completely at home then they would ever do in your office. We've all gotten the forms where the only thing the patient wrote on the form was "BACK" under reason for seeking care. Then you spent more time asking questions that should have been filled out on the form. By having your forms online, every part of the new patient first visit goes smoother.
This procedure also directs the patient to your website before they ever come to the office. Imagine a new patient seeing pictures of children being adjusted, patient testimonials, biographies of the doctor and staff, as well as a virtual tour of the office before ever coming to the office! This goes along way to remove the fear, apprehension, and intimidation many new patients feel when they enter a doctor's office for the first time.
Our Upcoming Schedule
Now You Know will be on the road quite a few times in the coming months. We hope to see as many of our readers at these events as possible. At several of these programs we will be teaching our "Internet Practice Seminar", on how to maximize this technology to teach and motivate your patients. The dates are listed below.
When
Who-Where
Contact
October 25 - 28, 2001
Booth
Dynamic Essentials
Atlanta Renaissance Waverly Hotel
DE 1-800-233-5409
www.lifede.com
November 8-10 2001
Booth
ICA Pediatric Council Conference
Colorado Springs, CO
ICA 1-800-423-4690
www.chiropractic.org
December 1-2, 2001
Speaking
"Chiropractic Without a Doubt"
by ICA, Phoenix AZ
ICA 1-800-423-4690
www.chiropractic.org
December 7-9, 2001
Speaking & Booth
FCS Convention
Orlando Airport Hyatt
1-800-335-4897
www.fcschiro.com
Jan. 24-27, 2002
Speaking & Booth
Karl Parker Seminars
Dallas, Texas
Karl Parker Seminars
www.karlparker.com
Jan. 24-27, 2002
Speaking & Booth
New Beginnings
Sheraton Hotel Eatontown,
New Jersey
New Beginnings
732-747-4646
www.newbeginningschiro.com
February 23-24, 2002
Speaking & Booth
Florida Chiropractic Society
license renewal, Ft Lauderdale, FL
1-800-335-4897
www.fcschiro.com
February 22-24, 2002
Booth
Arnold Classic & ICA Sport Fitness Symposium, Columbus, Ohio
ICA - 1-800-423-4690
www.chiropractic.org
March 8-10, 2002
Booth
Michigan Chiropractic Council
CE Seminar
MCC
www.michiganchiropractic.org
March 14-17, 2002
Booth
Chiropractic Pediatric University
TBA
Future Perfect Inc.
732-295-5437
www.chiropediatrics.com
April 25-28, 2002
Booth
New Beginnings
Sheraton Hotel Eatontown,
New Jersey
New Beginnings
732-747-4646
www.newbeginningschiro.com
For an ongoing list of where we will be please go to our website in the "NYK News" section and look under "Our Seminars". We are continually adding new dates so check the website for the most recent schedule. If your group or organization is interested in our program please call 678-570-7750. Thank You.
Partners in Patient Education

Brican corporation has introduced a new "Platinum" package that includes a Now You Know website for one whole year. Brican has a unique and high tech approach to patient education that is one of the best I've ever seen. Their program can also be customized for your office. If you see them at a show please stop by and tell them Now You Know sent you. You can view their web site at www.bricancorp.com .
Now You Know Products and Services
NYK started just over three years ago offering an email newsletter sent directly to patients. We now have grown to the largest supplier of Internet services to the profession. But that is not all we do. Review the list below to see the variety of products and services we offer.
Now You Know Web Site Design and Hosting: Our combination of features, updates, message quality and quantity of content has made Now You Know the largest provider of individual web sites to the chiropractic profession. Click on the thumbnail to to the right and see why our list of features makes us "simply the best!"

Now You Know Email Newsletter Service: Our newsletter is the most popular patient email newsletter in chiropractic. We estimate that each month over 50 thousand people read these each month. Current and hard-hitting articles on health and chiropractic issues delivered directly to the patients inbox has made our newsletter service unsurpassed in chiropractic. See why hundreds of offices love this service! Click on the thumbnail at left for more information.

Echiropractic: We push the technology window to the limit with online chiropractic pamphlets, cards and office letters for you to use. An entire year of unlimited usage for a very reasonable fee. See what everyone else is talking about by visiting www.echiropractic.net .

NYK Patient Lecture Presentation: Use hi-tech graphics and dazzling images to teach your patients about chiropractic and your office. Now You Know offers the most graphically impressive patient lecture available in chiropractic. Available in 35mm slides with an audio tape of the presentation.

NYK Full Spine X-ray Filtration System: Do you take full spine x-rays? Would you like to? Learn how to take full spine x-rays affordably and easily without split screens of 14 x 36 film. Visit www.nowyouknow.net to find out more.

NYK Custom Posters: Why buy generic posters when you can have your picture and your words displaying for your patients. Especially valuable for offices with front window exposure! Only $49.95 each. Visit www.nowyouknow.net to find out more.

NYK Free Stuff: On our web site, www.nowyouknow.net , you will find a link to this page containing free stuff and links to Free Stuff for chiropractors. Subscribe to free newsletters, get a free poster, send for a free CD-Rom, download free graphics, and find free resources. If you want it and it is free check us out.

Free Classifieds: Selling your practice, buying one? Looking for an associate, or to be an associate? Have a product or service to sell, program or seminar? Now You Know offers this free classified for the entire profession!